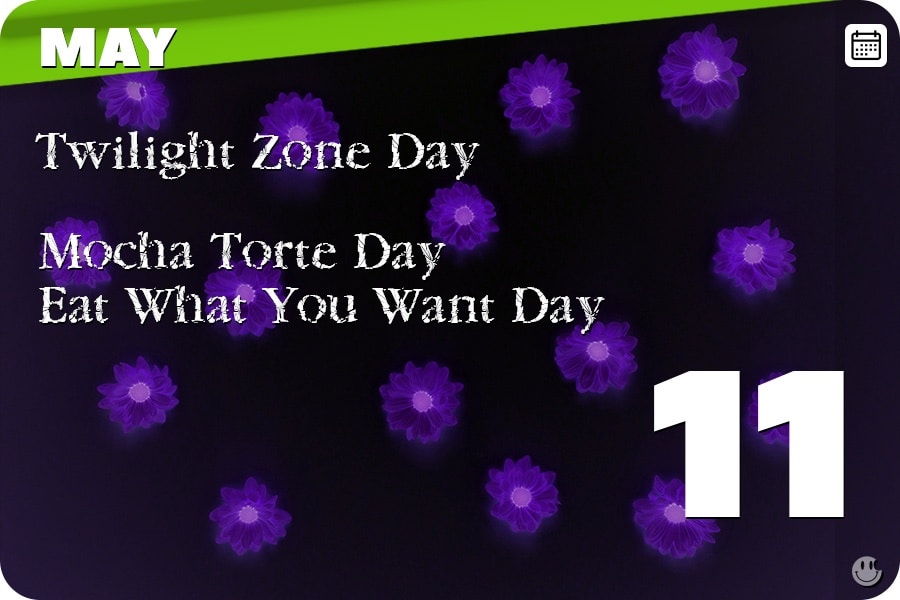 May 11 Facts, Fun Trivia and History
May 11 History Highlights
1846 – President James K. Polk requested a Declaration of War against Mexico, starting the Mexican-American War.
1858 – Minnesota was admitted as the 32nd state of the United States
1960 -Adolf Eichmann was captured by the Mossad in Argentina.
The 1970 Lubbock tornado killed 26 people and causes $250 million in damage.
If you were born on May 11th,
You were likely conceived the week of… August 18th (prior year)
Why is May 11 Twilight Zone Day?
There is no valid reason for this day.
"You're traveling through another dimension, a dimension not only of sight and sound but of mind; a journey into a wondrous land whose boundaries are that of imagination. That's the signpost up ahead; your next stop, the Twilight Zone."
– Rod Serling
Chang and Eng Bunker, The "Siamese Twins"
These conjoined twin brothers are one of the most celebrated in history. They toured extensively, and this pair catapulted the phrase "Siamese twins" to become a euphemism for conjoined twins as general A study by scientists at John Hopkins University on Chang and Eng (May 11, 1811 – January 17, 1874) led them to believe that they may have shared more than their hospital bed; it was discovered that the two were actually monoamniotic twin pregnancy, which made them both share a placenta with each other.
Other claims about these famous twins include that Chang paid for his passage from Siam (in today's Thailand) to Philadelphia thanks to his talent with card tricks. Eng could speak five languages- English, Latin, German, Siamese, and Malayan.
May 11 is…
Eat What You Want Day
Mocha Torte Day
Twilight Zone Day
May 11 Birthday Quotes
"Be nice to everyone, always smile & appreciate things because it could all be gone tomorrow."
– Cory Monteith
"I never kill insects. If I see ants or spiders in the room, I pick them up and take them outside. Karma is everything."
– Holly Valance
"A true artist is not one who is inspired, but one who inspires others."
– Salvador Dali
"Our attitudes control our lives. Attitudes are a secret power working twenty-four hours a day, for good or bad. It is of paramount importance that we know how to harness and control this great force."
– Irving Berlin
"I'm not bitter, I'm bittersweet."
– Eric Burdon
May 11 Birthdays
1811 – Chang Bunker and Eng Bunker, Siamese Twins (died in 1874)
1888 – Irving Berlin, Belarusian-American pianist and composer (died in 1989)
1904 – Salvador Dalí, Spanish artist (died in 1989)
1911 – Phil Silvers, American comedic actor (died in 1985
1927 – Bernard Fox, British comedic actor (died in 2016)
1933 – Louis Farrakhan, American religious leader
1941 – Eric Burdon, English musician
1978 – Laetitia Casta, French model
1982 – Cory Monteith, Canadian actor and singer (died in 2013)
1983 – Holly Valance, Australian actress and singer
1999 – Sabrina Carpenter, American singer and actress
May 11 History
868 – The first known dated printed book was the Diamond Sutra, a Buddhist scripture. A citation included: "printed on 11 May 868, by Wang Chieh, for free general distribution".

1811 – The famous Siamese twins, Chang and Eng, were born of Chinese parents in Siam (now Thailand).

Glacier National Park: Established on May 11, 1910, in Montana, this park spans 1,583 square miles. Known for its glacier-carved peaks, alpine meadows, and diverse plant and animal life.

1942 – Go Down, Moses by William Faulkner, was published

1947 – B.F. Goodrich Co. announced the development of tubeless tires.

1949 – The first Polaroid cameras were sold for $89.95.

1950 – Evelyn and Paul Trent took the McMinnville UFO photographs

1953 (Tornado) Waco, Texas

1959 #1 Hit May 11, 1959 – May 17, 1959: Dave "Baby" Cortez – The Happy Organ

May 11, 1978 – The Return of the King animated film aired on ABC

1980 – Bob Marley died from lung cancer

1981 – East End Show – Cats (Musical) May 11, 1981

1985 #1 Hit May 11, 1985 – May 17, 1985: Madonna – Crazy for You

1985 – Fifty-six spectators died and more than 200 were injured in the Bradford City stadium fire.

1991 #1 Hit May 11, 1991 – May 17, 1991: Roxette – Joyride

1996 – Captain Planet and The Planeteers cartoon series came to an end.

1997 – IBM's supercomputer Deep Blue defeated chess champion, Garry Kasparov.
Today's Random Trivia and Shower Thoughts
Truth is not revealed in a courtroom, but the truth is established in a courtroom.

Grover Cleveland was on the $1,000 bill.

What if the washing machine has been the one taking our socks all along? #sorrydryer

If two people on opposite sides of the world each drop a piece of bread, the Earth briefly becomes a sandwich.

If Old People started saying stuff like, "What's up, my Geezer?" or "Geez'ah, please!" that would be adorable.

Hasbro denied Pixar the use of GI Joe in Toy Story when found that the GI Joe doll was going to be blown up by Sid.

You never see people make typos in movies. #moviecliches "There Are Two Typos Of People In This World: Those Who Can Edit And Those Who Can't" – Jarod Kintz

Based on all the emails I've been getting, the key to earning $8500+/week from home is to have poor grammar.

Pocahontas is the only Disney princess with a tattoo.

El Cid – Real Name: Rodrigo Diaz De Vivar

You never realize how cluttered your desk is until you spill a glass of water. #life

"Just like a toon to drop a safe on a guy's head." #moviequotes
More Pop Culture History Resources