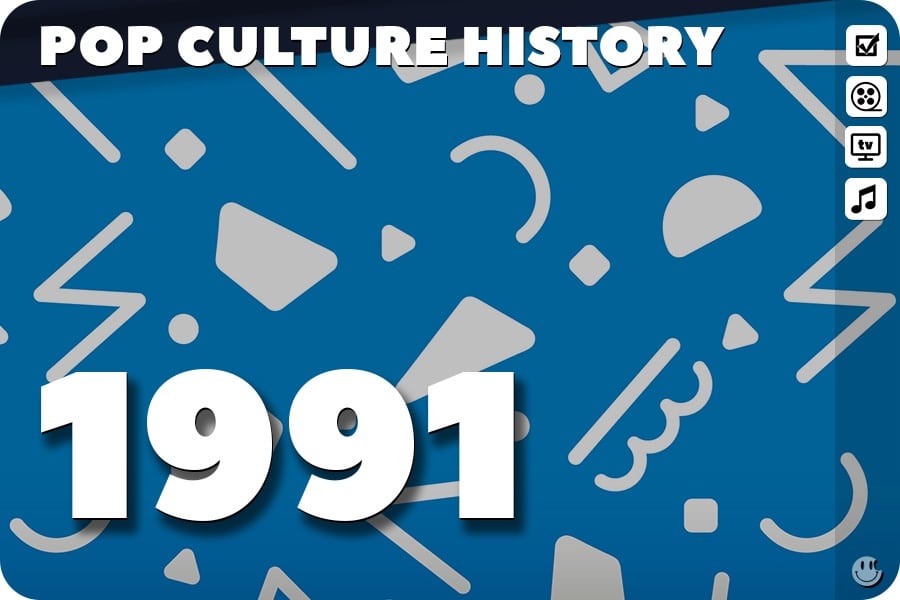 1991 Facts, Fun Trivia and History
Quick Facts from 1991:
World Changing Event: Operation Desert Storm: A United Nations Coalition Force led by the United States and including many Arab and European countries took on Iraqi forces who had invaded Kuwait and after one month of bombing Iraq was forced out of Kuwait.
The Top Song was (Everything I Do) I Do It For You – Bryan Adams
Influential Songs include Summertime by DJ Jazzy Jeff and Fresh Prince, Try A Little Tenderness by The Commitments, Black Or White by Michael Jackson and Deeper Shade of Soul by Urban Dance Squad
The Movies to Watch include Beauty and the Beast, Boyz in the Hood, The Prince of Tides, City Slickers, Fried Green Tomatoes, Cape Fear and Father of the Bride
The Most Famous Person in America was probably Michael Jordon
People Magazine's Sexiest Man Alive: Patrick Swayze
Notable books include: I Spy: A Book of Picture Riddles by Jean Marzollo, photos by Walter Wick and The Infinity Gauntlet by Jim Starlin, George Perez and Ron Lim
On April 1, the US minimum wage went from $3.80 to $4.25 per hour
Price of a postage stamp in 1991: 29 cents
Super Nintendo: $199.98
The Funny Guy was: Andrew "Dice" Clay
The Conversation: Baseball officially banned Pete Rose from being elected to Hall of Fame. Was it fair?
Top Ten Baby Names of 1991:
Ashley, Jessica, Brittany, Amanda, Samantha, Michael, Chris, Topher, Matthew, Joshua, Andrew
Fashion Icons and Sex Symbols:
Elle Macpherson
Hollywood Hunks and Leading Men:
Gérard Depardieu, Patrick Swayze
"The 1991 Quotes:"
"Hello Clarice"
"A census taker once tried to test me. I ate his liver with some fava beans and a nice Chianti."
– Anthony Hopkins as Hannibal Lecter in Silence of the Lambs
"I crap beggir than you"
– Jack Palance in City Slickers
"The few, the proud, the Marines"
– United States Marines ad
"The quicker picker-upper"
-Bounty paper towels
"Hasta La Vista Baby"
– Arnold Schwarzenegger, in The Terminator 2: Judgement Day
Time Magazine's Man of the Year:
Ted Turner
Miss America:
Marjorie Vincent (Oak Park, IL)
Miss USA:
Kelli McCarty (Kansas)
The Scandals:
Kentucky Fried Chicken officially changed its name to KFC. Conspiracists claimed that it was because they weren't selling actual chickens, but some kind of cloned, headless chicken bodies. So the original name was supposedly shortened so it would no longer be "false advertising."
Paul 'Pee-Wee Herman' Reubens was caught in adult theater doing an inappropriate public act.
Cannibal serial killer Jeffrey Dahmer was captured. He had killed and sometimes eaten, 17 people.
Tailhook Scandal:
Marines getting rowdy and inappropriate with the female marines in Las Vegas.
RIP:
Senator John Heinz in an airplane/helicopter crash over Lower Merion Township, PA.
Eddie Vedder wrote the song, Jeremy, because he thought it was important to give meaning to the actions of Jeremy Wade Delle, a high school student who shot himself in front of his English class in 1991.
Redd Foxx died of an actual heart attack onset of The Royal Family in 1991, everyone thought it was all part of the fake heart attack act he was known for on Sanford & Son.
The Friendship Paradox:
A phenomenon that was first observed in 1991. On average, most people have fewer friends than their friends have. At the same time, they believe they have more friends than their friends have.
World News:
Soviet cosmonaut Sergei Krikalev who in space when the Soviet Union collapsed in 1991. Unable to return, he stayed in space for 10 months. He was supposed to do military service during that time and there are reports that the army almost issued a desertion warrant until they realized he wasn't on the planet.
Women in Switzerland didn't gain the right to vote in federal elections until 1971. They also couldn't vote locally in the canton of Appenzell until 1991.
The record for most passengers ever carried by a commercial airliner is 1,088, by an El Al Boeing 747 during Operation Solomon, which involved the evacuation of Ethiopian Jews from Addis Ababa, Ethiopia, and started on May 24, 1991. This figure includes two babies born on the flight.
During the Soviet coup attempt of 1991, the Relcom network was used to spread the news about the event worldwide while the coup perpetrators were trying to suppress mass media activity through the KGB. Boris Yeltsin has credited them for defeating the Communists.
Pop Culture Facts & History:
The term "Carjacking" was coined by a Detroit crime reporter who wanted an easier way to report RAUDAA, which stood for Robbery, Armed, Unauthorized Driving Away of an Automobile.
In 1991, America's best selling "car" was the Little Tikes' Cozy Coupe, selling about 500,000 vehicles.
A man found a first printing of the Declaration of Independence, inside the frame of a $4 painting he'd bought at a flea market. It was later sold at auction for $2.4 million.
In a 1991 New York Supreme Court case. Stambovsky v. Ackley (aka The Ghostbusters Ruling) the court ruled that a seller must disclose or inform the purchaser of a haunting of a property.
The For Dummies book series started with DOS for Dummies in 1991. The creator overheard someone in a bookshop ask if there was "a book about DOS for dummies like me". Since then the series has grown to about 2,500 titles.
In 1991, the first major online services provider CompuServe charged $5.00 an hour.
SanDisk produced the first flash-based SSD in a 2.5-inch hard disk drive form factor for IBM with a 20 MB capacity priced at about $1000.
The little plastic ball in cans of Guinness Beer won the Queen's Award for Technological Advancement, beating the Internet and Email.
17473 Freddiemercury is an asteroid discovered in 1991 that was named in memory of Freddie Mercury.
The Sims' game designer Will Wright, was inspired to create a "virtual dollhouse" after losing his home during the Oakland firestorm of 1991 and subsequently rebuilding his life.
The Lenin Was a Mushroom Hoax: a spoof interview given on Soviet TV that purported that Vladimir Lenin ate so many magic mushrooms that he became one himself. Because it was presented so seriously, many thousands of Soviet people believed the interview was genuine.
The character of Wilson in Home Improvement was based on Time Allen's childhood memories of being too short to look over his fence to see his neighbors.
PBS producing the kid's game show Where in the World is Carmen Sandiego? in 1991 after a National Geographic survey showed 1/4 of Americans couldn't find the USSR or the Pacific Ocean on a world map
Silence Of The Lambs won the big five Oscars – Best Picture, Best Director, Best Actor, Best Actress, and Best Writing.
Charlie Sheen got so convinced of a death scene in the second film of The Flower of Flesh and Blood series that he contacted the FBI suggesting that it was a snuff film. It wasn't.
Angela Lansbury (Mrs. Potts) from Beauty and the Beast sang Tale as old as time in a single take after being initially against it because she thought her "aging singing voice" wasn't suited for the song.
Liz Taylor married hubby # 7, Larry Fortensky, at Michael Jackson's Neverland Ranch. They met in a rehab center.
In 1990, the high school dropout rate in Sevierville, Dolly Parton's hometown, was over 30%. In 1991, she launched The Buddy Program, offering 7th and 8th graders $500 if they graduated. The dropout rate for those classes dropped to 6% and has generally retained that average to this day.
The Beastie Boys have sold 20 million records in the United States, making them the biggest-selling rap group since Billboard began recording sales in 1991.
Rolling Stone Magazine originally gave Nirvana's Nevermind album a 3-star rating in 1991. They now give it 5 stars and rank it as the 17th greatest album of all time.
"Teen Spirit" was a real deodorant – one of Kurt Cobain's friends spray-painted "Kurt Smells Like Teen Spirit" on his wall because Kurt's then-girlfriend wore Teen Spirit, which led to the title of the 1991 Nirvana hit song.
Nicoderm CQ's nicotine patch was approved by the FDA.
The Calloway Golf Company's 'Big Bertha' club was introduced. The club revolutionized how the game of golf would be played.
Cost of a Superbowl ad in 1991: $800,000
Doomsday Clock:
17 minutes to midnight, according to the Bulletin of Atomic Scientists.
1991: "With the Cold War officially over, the United States and Russia begin making deep cuts to their nuclear arsenals. The Strategic Arms Reduction Treaty greatly reduces the number of strategic nuclear weapons deployed by the two former adversaries. Better still, a series of unilateral initiatives remove most of the intercontinental ballistic missiles and bombers in both countries from hair-treggir alert. "The illusion that tens of thousands of nuclear weapons are a guarantor of national security has been stripped away."
Unsung Hero:
Tim Berners-Lee came up with the idea of making 'links' on his own computer, then others, creating "The Information Mine" (TIM) later renamed the "World Wide Web". He renounced patent rights because it "would have scuppered the whole thing. It never would have taken off."
The Habit:
The cool kids were listening to Nirvana's Nevermind album.
1st Appearances & 1991's Most Popular Christmas Gifts, Toys and Presents:
Teenage Mutant Ninja Turtles toys and action figures, Rollerblade Barbie, Super Soaker water gun, K'Nex, Myst
Popular and Best-selling Books From 1991:
A Thousand Acres by Jane Smiley
America Psycho by Bret Easton Ellis
The Dark Tower III: The Waste Lands by Stephen King
The Doomsday Conspiracy by Sidney Sheldon
The Firm by John Grisham
Goodnight Moon (originally 1942 board book) by Margaret Wise Brown and Clement Hurd
Heartbeat by Danielle Steel
Heir to the Empire by Timothy Zahn
I Spy: A Book of Picture Riddles by Jean Marzollo, photos by Walter Wick
The Infinity Gauntlet by Jim Starlin, George Perez, and Ron Lim
The Kitchen God's Wife by Amy Tan
Loves Music, Loves to Dance by Mary Higgins Clark
Mao II by Don DeLillo
Mating by Norman Rush
Needful Things by Stephen King
Night Over Water by Ken Follett
No Greater Love by Danielle Steel
Oh, the Places You'll Go by Dr. Seuss
The Plains of Passage by Jean M. Auel
Possession by A.S. Byatt
Remember by Barbara Taylor Bradford
Scarlett by Alexandra Ripley
The Secret Pilgrim by John le Carre
The Seeress of Kell by David Eddings
The Sum of All Fears by Tom Clancy
Broadway Show:
Miss Saigon (Musical) Opened on April 11, 1991, and closed on January 28, 2001
Best Film Oscar Winner:
Dances with Wolves (presented in 1991)
1991 Entries to The National Film Registry:
2001: A Space Odyssey (released in 1968)
The Battle of San Pietro (released in 1945)
The Blood of Jesus (released in 1941)
Chinatown (released in 1974)
City Lights (released in 1931)
David Holzman's Diary (released in 1968)
Frankenstein (released in 1931)
Gertie The Dinosaur (released in 1914)
Gigi (released in 1958)
Greed (released in 1924)
High School (released in 1969)
I Am a Fugitive from a Chain Gang (released in 1932)
The Italian (released in 1915)
King Kong (released in 1933)
Lawrence of Arabia (released in 1962)
The Magnificent Ambersons (released in 1942)
My Darling Clementine (released in 1946)
Out of the Past (released in 1947)
A Place in the Sun (released in 1951)
The Poor Little Rich Girl (released in 1917)
The Prisoner of Zenda (released in 1937)
Shadow of a Doubt (released in 1943)
Sherlock, Jr. (released in 1924)
Tevye (released in 1939)
Trouble in Paradise (released in 1932)
The Big Movies: (according to boxofficemojo)
1. Terminator 2: Judgement Day
2. Robin Hood: Prince of Thieves
3. Beauty and the Beast
4. The Silence of the Lambs
5. City Slickers
6. Hook
7. The Addams Family
8. Sleeping With The Enemy
9. Father of the Bride
10. The Naked Gun 2 1/2: The Smell of Fear
1991 Most Popular TV shows:
1. 60 Minutes (CBS)
2. Roseanne (ABC)
3. Murphy Brown (CBS)
4. Cheers (NBC)
5. Home Improvement (ABC)
6. Designing Women (CBS)
7. Full House (ABC)
8. Murder, She Wrote (CBS)
9. Major Dad (CBS)
10. Coach (ABC)
1991 Billboard Number One Songs:
December 8, 1990 – January 4, 1991:
Because I Love You (The Postman Song) – Stevie B
January 5 – January 18:
Justify My Love – Madonna
January 19 January 25:
Love Will Never Do (Without You) – Janet Jackson
January 26 – February 8:
The First Time – Surface
February 9 – February 22:
Gonna Make You Sweat (Everybody Dance Now) – C&C Music Factory featuring Freedom Williams
February 23 – March 8:
All the Man That I Need – Whitney Houston
March 9 – March 23:
Someday – Mariah Carey
March 23 – March 29:
One More Try – Timmy T.
March 30 – April 12:
Coming out of the Dark – Gloria Estefan
April 13 – April 19:
I've Been Thinking About You – Londonbeat
April 20 – April 26:
You're in Love – Wilson Phillips
April 27 – May 10:
Baby Baby – Amy Grant
May 11 – May 17:
Joyride – Roxette
May 18 – May 24:
I Like the Way (The Kissing Game) – Hi-Five
May 25 – June 7:
I Don't Wanna Cry – Mariah Carey
June 8 – June 14:
More Than Words – Extreme
June 15 – July 19:
Rush, Rush – Paula Abdul
July 20 – July 26:
Unbelievable – EMF
July 27 – September 23:
(Everything I Do) I Do It for You – Bryan Adams
September 14 – September 20:
The Promise of a New Day – Paula Abdul
September 21 – October 4:
I Adore Mi Amor – Color Me Badd
October 5 – October 11:
Good Vibrations – Marky Mark & the Funky Bunch featuring Loleatta Holloway
October 12 – November 1:
Emotions – Mariah Carey
November 2 – November 8:
Romantic – Karyn White
November 9 – November 22:
Cream – Prince & the New Power Generation
November 23 – November 29:
When a Man Loves a Woman – Michael Bolton
November 30 – December 6:
Set Adrift on Memory Bliss – PM Dawn
December 7, 1991- January 24, 1992:
Black Or White – Michael Jackson
Sports:
World Series Champions: Minnesota Twins
Superbowl XXV Champions: New York Giants
NBA Champions: Chicago Bulls
Stanley Cup Champs: Pittsburgh Penguins
U.S. Open Golf Payne Stewart
U.S. Tennis: (Men/Ladies) Stefan Edberg/Monica Seles
Wimbledon (Men/Women): Michael Stitch/Steffi Graf
NCAA Football Champions: Miami & Washington
NCAA Basketball Champions: Duke
Kentucky Derby: Strike The Gold
Save