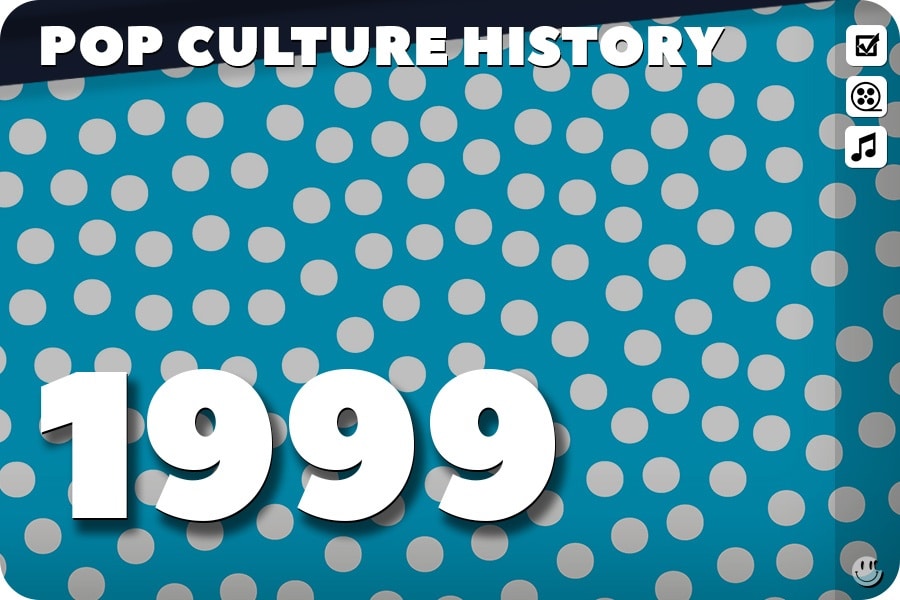 1999 Facts, Fun Trivia and History
Quick Facts from 1999:
World Wide Worry: Would the Y2K computer bug end the world as we know it?
The Top Song was Smooth by Santana with Rob Thomas
The Movies to Watch include The Sixth Sense, Stuart Little, Austin Powers: The Spy Who Shagged Me and Tarzan
The Most Famous Person in America was probably Bill Gates
Notable books include: Harry Potter and the Prisoner of Azkaban by J.K. Rowling and From Hell(collected) by Alan Moore and Eddie Campbell
Price of a postage stamp in 1999: 33 cents
Sony Discman: $59.00
Crayola crayons 64 pack: $1.79
The Funny Guys were: Chris Rock and Mitch Hedberg
The Funny Late Late Night Host: Craig Kilborn
Myth Becomes Reality: Prior to 1999, the American Express Black Card was just a myth. AmEx decided to capitalize on it and actually make a black, exclusive credit card. You can only qualify if you are a multi-millionaire and get an invitation.
Top Ten Baby Names of 1999:
Emily, Hannah, Alexis, Sarah, Samantha, Jacob, Michael, Matthew, Joshua, Nicholas
Fashion Icons and Sex Symbols:
Gisele Bündchen, Angelina Jolie, Salma Hayek, Claudia Schiffer, Jennifer Love Hewitt, Shania Twain, Denise Richards, Rebecca Romijn, Heidi Klum
Leading Men and Hollywood Hunks:
David Beckham, Christian Bale, Justin Timberlake, George Clooney
"The Quotes:"
"I see dead people"
– Haley Joel Osment, in 'The Sixth Sense'
'Is that your final answer?'
– Regis Philbin, on Who Wants To Be A Millionaire?
Time Magazine's Person of the Year:
Jeff Bezos
Miss America:
Nicole Johnson (Virginia Beach, VA)
Miss USA:
Kimberly Pressler (New York)
The Scandals:
Y2k was a bust. Many thought that most computers would stop working when the year 2000 hit.
Airplane Celebrity Death:
John F. Kennedy Jr.
Sports Entertainment Death:
Owen Hart (WWF wrestler, live on TV). He fell to his death when the harness that was supposed to slowly lower him into the ring prematurely snapped, causing him to fall 78 feet
Tragedy:
12 people were killed and 27 injured at Texas A&M University when a massive bonfire under construction collapsed.
Pro Golfer Death:
Payne Stewart when his plane lost cabin pressure and all occupants passed out. After 4 hours of autopilot, the airplane crashed in South Dakota.
TV Child Star Death:
Dana Plato, age 34 (overdose)
Ouch:
Joan Murray survived a 14,500 ft fall when her main parachute failed while skydiving. She landed in a fire ant mound. Numerous venomous stings caused an adrenaline rush to keep her heart beating long enough for doctors to assist.
A schizophrenic man broke into George Harrison's home and stabbed him over 40 times. His wife incapacitated the man and George was hospitalized. His official statement following the attack was "He wasn't a burglar, and he certainly wasn't auditioning for the Traveling Wilburys."
Gardner Museum Art Heist: $500 million worth of art from Rembrandt, Vermeer, Manet, and Degas were stolen from a museum. They have never been recovered.
World Facts:
Scotland re-established its parliament in 1999 after the Scotland Act (1998) was passed by the British parliament after a referendum. One of the first words spoken in the Parliament were, "The Scottish Parliament, which adjourned on March 25, 1707, is hereby reconvened."
There was a two-week-long lion-hyena war over disputed territory in Ethiopia during 1999, where lions killed 35 hyenas and hyenas managed to kill six lions, with the lions eventually taking over the territory.
Despite the fact that they have been in use since the late 19th century, the current flag and national anthem of Japan were not official until 1999.
Jonathan James was only 15 when he hacked into the systems of NASA and the United States Department of Defense in June 1999. Since he was a juvenile, he was charged with 2 counts of "juvenile delinquency" placed under a 6 month home arrest and asked to write apology letters to NASA and the Department of Defense.
Hackers revealed a security flaw in Hotmail that permitted anybody to log in to any Hotmail account using the password 'eh'. At the time it was called "the most widespread security incident in the history of the Web".
Pop Culture Facts & History:
Finally, Pac-Man's Perfect Score! Billy Mitchell, played Pac-Man for six hours non-stop to reach the 256th screen and achieve a score of 3,333,360. Pac-Man was released in 1980.
July 1st is Bobby Bonilla Day, the day in which the New York Mets pay Bobby Bonilla, a man who last played for them in 1999, $1.19 million until the year 2035.
Prior to 1999, the mythical American Express Black Card was just that: a myth. The myth became so pervasive that AmEx decided to capitalize on it and actually make a black, ultra-exclusive credit card.
For the 1999 Disney film Tarzan, Phil Collins sang all his own songs for the Spanish, French, Italian, and German translations of the soundtrack.
On May 19th, 1999 when Star Wars: The Phantom Menace released into theaters, an estimated 2.2 million full-time employees missed work to watch the film, costing the US an estimated $293 million dollars from loss of productivity.
Maude Flanders was killed-off on The Simpsons because of a pay raise dispute with the voice actress, Maggie Roswell. She was flying back-and-forth from Denver to Los Angeles and wanted a raise to cover the costs. Fox offered her a $150 per episode raise, so she quit.
According to the 1999 film the Matrix, Neo's passport expires on September 11, 2001.
3.4 million copies of the animated Disney movie, The Rescuers, were recalled in 1999 because it contained two frames where there was a naked woman in the background.
They Might Be Giants were the first major-label recording artist to release an entire album exclusively in mp3 format.
In November of 1999, Kevin Smith attended a protest against his own movie, Dogma. He even made it onto the local news, when the on-the-scene reporter asked him (not knowing it was him) his thoughts on the movie. He responded: "I don't know, but I've been told, 'not good.'". He said his name was 'Bryan Johnson'.
The Screen Actors Guild strike of 1999 prevented the use of live actors in advertising. Needing an ad campaign, an insurance company turned to CGI to replace the actor. Thus, the Geico Gecko was born.
In 1999 the Ninth Circuit Court of Appeals ruled that software source code is protected speech.
A Las Vegas couple were unable to come to a decision on how to split up their Beanie Baby collection during their divorce settlement. A judge ordered them to dump their collection on the floor of the court and take turns picking them one-by-one.
In 1999 Google brought in 16 students to test out their search engine. Upon reaching the site, they sat still for 45 seconds, just staring. Worried, Google finally asked what was wrong. All 16 responded the same: they were waiting for the rest of the page to load.
The Kyocera VP-210 was released in 1999. The phone had an 0.11MP camera and could take up to 20 pictures before its onboard storage was full.
When the Nick Drake song Pink Moon was used in a Volkswagen commercial in 1999, the US sales of his albums went from about 6,000 in 1999 to 74,000 in 2000.
When he retired in 1999, Wayne Gretzky held or shared 61 NHL records. #thegreatone
Austin Powers The Spy Who Shagged Me (1999) re-used the rocket launch scene from 1995's Apollo 13.
Susan Lucci won her first Daytime Emmy Award, after 19 nominations.
Cost of a Superbowl ad in 1999: $1,600,000
The Habits:
Collecting Pokemon "pocket monsters" toys, cards, and games. Also, watching them on television.
Watching The Blair With Project in theaters. The film earned $248 Million and cost about $25,000.
Watching ABC TV's Who Wants To Be A Millionaire? at home. This show was the spark for network reality television.
1999 Toys inducted to the National Toy Hall of Fame:
Barbie, Crayola Crayon, Erector Set, Etch A Sketch, Frisbee, Hula Hoop, Lego, Lincoln Logs, Marbles, Monopoly, Play-Doh, Radio Flyer Wagon, Roller Skates, Teddy Bear, Tinkertoy, View-Master, Duncan Yo-Yo
1st Appearances & 1999's Most Popular Christmas Gifts, Toys and Presents:
Furby Babies, Pokemon, Mary-Kate and Ashley and Britney Spears dolls, Chuck-E-Cheese Pizza Factory
Broadway Shows:
Fosse (Dance Musical) Opened on January 14, 1999, and closed on August 25, 2001
Annie Get Your Gun (Musical) Opened on March 4, 1999, and closed on September 1, 2001
East End Shows:
Mamma Mia! (Musical) Opened on April 6, 1999
The Lion King (Musical) Opened on October 19, 1999
Popular and Best-selling Books From 1999:
A Man in Full by Tom Wolfe
The Alibi by Sandra Brown
Apollyon by Jerry B. Jenkins and Tim LaHaye
Assassins by Jerry B. Jenkins and Tim LaHaye
Bittersweet by Danielle Steel
Black Notice by Patricia Cornwell
Disgrace by J.M. Coetzee
From Hell (collected) by Alan Moore Eddie Campbell
The Girl Who Loved Tom Gordon by Stephen King
Hannibal by Thomas Harris
Harry Potter and The Chamber of Secrets by J.K. Rowling
Harry Potter and The Prisoner of Azkaban by J.K. Rowling
Hearts in Atlantis by Stephen King
Interpreter of Maladies by Jhumpa Lahiri
Irresistible Forces by Danielle Steel
Motherless Brooklyn by Jonathan Lethem
The Perks of Being a Wallflower by Stephen Chbosky
Southern Cross by Patricia Cornwell
Star Wars: Episode 1, The Phantom Menace by Terry Brooks
Tara Road by Maeve Binchy
The Testament by John Grisham
Timeline by Michael Crichton
We'll Meet Again by Mary Higgins Clark
Best Film Oscar Winner:
Shakespeare in Love (presented in 1999)
1999 Entries to The National Film Registry:
Civilization (released in 1916)
Do the Right Thing (released in 1989)
The Docks of New York (released in 1928)
Duck Amuck (released in 1953)
Emperor Jones (released in 1933)
Gunga Din (released in 1939)
In the Land of the Head Hunters (released in 1914)
Jazz on a Summer's Day (released in 1959)
King: A Filmed Record… Montgomery to Memphis (released in 1970)
The Kiss (released in 1896)
Kiss Me Deadly (released in 1955)
Lambchops (released in 1929)
Laura (released in 1944)
Master Hands (released in 1936)
My Man Godfrey (released in 1936)
Night of the Living Dead (released in 1968)
The Plow That Broke the Plains (released in 1936)
Raiders of the Lost Ark (released in 1981)
Roman Holiday (released in 1953)
The Shop Around the Corner (released in 1940)
A Streetcar Named Desire (released in 1951)
The Ten Commandments (released in 1956)
Trance and Dance in Bali (released in 1936/1939)
The Wild Bunch (released in 1969)
Woman of the Year (released in 1942)
The Big Movies: (according to boxofficemojo)
1. Star Wars Episode One: The Phantom Menace
2. The Sixth Sense
3. Toy Story 2
4. Austin Powers: The Spy Who Shagged Me
5. The Matrix
6. Tarzan
7. Big Daddy
8. The Mummy
9. Runaway Bride
10. Blair Witch Project
1999 Most Popular TV shows:
1. Who Wants To Be a Millionaire (ABC)
2. E.R. (NBC)
3. Friends (NBC)
4. Frasier (NBC)
5. 60 Minutes (CBS)
6. The Practice (ABC)
7. Touched By An Angel (CBS)
8. Law and Order (NBC)
9. Everybody Loves Raymond (CBS)
10. Jesse (NBC)
1999 Billboard Number One Songs:
December 5 – January 15:
I'm Your Angel – R. Kelly & Céline Dion
January 16 – January 29:
Have You Ever – Brandy
January 30 – February 7:
…Baby One More Time – Britney Spears
February 13 – March 12:
Angel Of Mine – Monica
March 13 – April 9:
Believe – Cher
April 10 – May 7:
No Scrubs – TLC
May 8 – June 4:
Livin' La Vida Loca – Ricky Martin
June 5 – July 16:
If You Had My Love – Jennifer Lopez
July 17 – July 23:
Bills, Bills, Bills – Destiny's Child
July 24 – July 30:
Wild Wild West – Will Smith featuring Dru Hill and Kool Moe Dee
July 31 – September 3:
Genie In A Bottle – Christina Aguilera
September 4 – September 17:
Bailamos – Enrique Iglesias
September 18 – October 8:
Unpretty – TLC
October 9 – October 22:
Heartbreaker – Mariah Carey featuring Jay-Z
October 23, 1999- January 14, 2000:
Smooth – Santana Featuring Rob Thomas
Sports:
World Series Champions: New York Yankees
Superbowl XXXIII Champions: Denver Broncos
NBA Champions: San Antonio Spurs
Stanley Cup Champs: Dallas Stars
U.S. Open Golf Payne Stewart
U.S. Tennis: (Men/Ladies) Andre Agassi/Serena Williams
Wimbledon (Men/Women): Pete Sampras/Lindsay Davenport
NCAA Football Champions: Florida State
NCAA Basketball Champions: Connecticut
Kentucky Derby: Charismatic
Sports Highlights:
Lance Armstrong won the Tour de France for the first time, winning seven in all, losing all of them later, in 2012.
Brandi Chastain's penalty kick won for the U.S. Women's Soccer Team, beating Chin. She dropped to her knees and ripped off her jersey in celebration. Sports bras as outerwear became somewhat fashionable for a few months after that.
Save