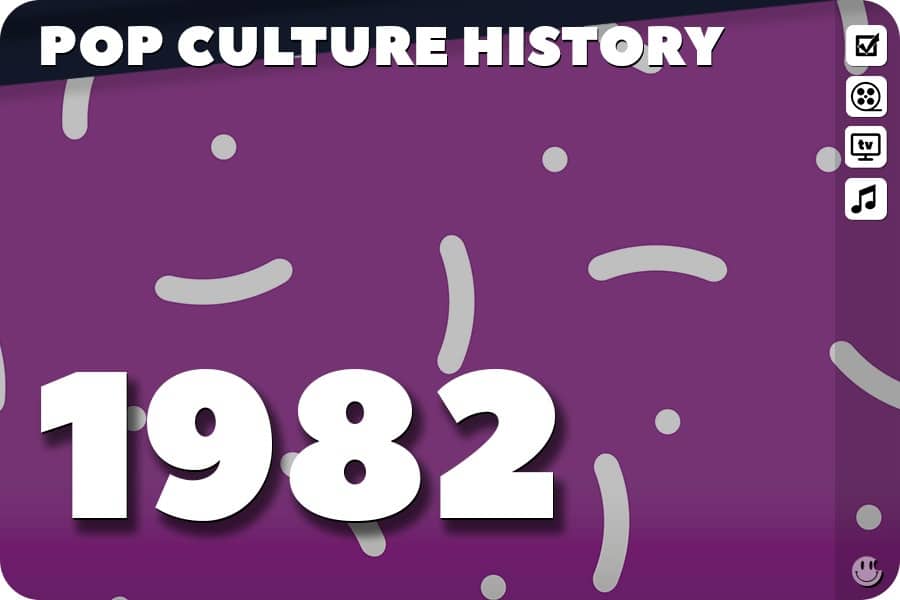 1982 Facts, History and Fun Trivia
Quick Facts from 1982:
World Changing Event: The Commodore 64 became the first popular 'home use' computer in many homes.
The Top Song was I Love Rock and Roll by Joan Jett & The Blackhearts
The Movies to Watch include E.T.: The Extra-Terrestrial, Rocky III, The Toy, Fast Times at Ridgemont High, Creepshow and Sophie's Choice
The Most Famous Person in America was probably Diana, Princess of Wales
Notable books include: The Death of Captain Marvel by Jim Starlin and Space by James A. Michener and The Indian in the Cupboard by Lynne Reid Banks
Price of a Schwinn bicycle in 1982: $202.00
Sony Walkman: $129.00
The Comeback Funny Guys were: Richard Pryor and Bill Cosby
The Funny Late Night Host: Johnny Carson
The Funny Later Night Host: David Letterman
Heard it Before? Michael Jackson took the line "Mama Say Mama Sa Mama Coosa" from Cameroonian musician Manu Dibango's 1972 afro-funk classic Soul Makossa and used for his song Wanna Be Startin' Somethin'. Rihanna also used it with Don't Stop The Music in 2007.
Top Ten Baby Names of 1982:
Jennifer, Jessica, Amanda, Sarah, Melissa, Michael, Chris, Topher, Matthew, Jason, David
The Sex Symbols, Hotties, and Fashion Icons:
Loni Anderson, Carol Alt, Barbara Bach, Catherine Bach, Kim Basinger, Phoebe Cates, Joan Collins, Lydia Cornell, Sybil Danning, Linda Evans, Morgan Fairchild, Farrah Fawcett, Jane Fonda, Daryl Hannah, Debbie Harry, Marilu Henner, Goldie Hawn, Lauren Hutton, Grace Jones, Nastassja Kinski, Jessica Lange, Heather Locklear, Olivia Newton-John, Stevie Nicks, Dolly Parton, Victoria Principal, Tanya Roberts, Betsy Russell, Brooke Shields, Suzanne Somers, Heather Thomas, Mary Woronov, Sean Young
Sex Symbols, Hollywood Hunks, and Leading Men:
Michael Jackson, Richard Gere, Harrison Ford, Mel Gibson, Christopher Reeve, Burt Reynolds
"The Quotes:"
"E.T. phone home"
– E.T. in E.T. The Extra-terrestrial
"They're Here"
– Heather O'Rourke in Poltergeist
"RAID kills bugs dead"
– RAID
"When it absolutely, positively has to be there overnight"
– FedEx
Time Magazine's Machine of the Year:
The Computer
Miss America:
Elizabeth Ward (Russellville, AR)
Miss USA:
Terri Utley (Arkansas)
The Scandals and Tragedies:
Seven people died from swallowing poisoned Tylenol. This event is why food packages are now so securely wrapped.
Airplane Celebrity Death:
Randy Rhodes
Movie Star Death:
John Belushi (heroin & cocaine overdose)
The Place To Be:
The San Fernando Valley, Home of the Valley Girls – from the neighborhoods of San Fernando Valley- they made valspeak the colloquial language of the day – Films like Valley Girl, and Frank (and Moon Unit) Zappa's hit Valley Girl.
Valley Girl Terminology:
Like – Used as an interjection: "That was, like, the worst thing ever!" or to indicate speech: "And she was like 'Get out of my way!'"
As if – lit. "yeah, right" or "as if" except it does not use a subject; expresses disbelief.
Bitchin' –  slang for excellent; first-rate. Though a derivative of "bitch", bitchin' is sometimes not considered profane.
Grody – Gross
Whatever! – short for "whatever you say"; sarcastic interjection often emphasizing the final syllable.
Fer shur –  "For sure", often used in agreement.
Totally -"I agree" or "completely."
Oh my God (later OMG!) – can be used many ways; expresses shock.
Tre – A synonym for "very" (derived from French "très")
So… – Very; used frequently and said with strong emphasis.
Seriously – Frequent interjection of approval.
Gnarly – an expression of seriousness. Can be a word for very intense or very pleasing
Are you serious? – expression of surprise.
Anyways… – Substitute for the grammatically correct "Anyway…"
Pop Culture Facts & History:
Surround Sound was introduced for home use by Dolby.

1982 – EA (Electronic Arts) was founded.

(Paul) Newman's Own opened for business, making a profit from year one, and donating all profits to charity.

Lowest PGA score of 63 played by Ray Floyd.

GM introduced the General Motors' Saturn car company.

1982 was the year Kenneth Cole launched his shoe company.

Michael Jackson's Thriller album was released on November 30th. Depending on who you talk to, up to 110,000,000 copies were sold. Two of them were mine.

Adobe was founded in California by Chuck Geschke and John Warnock in 1982.

Cost of a Superbowl ad in 1982: $324,000
Nobel Prize Winners:
Physics – Kenneth G. Wilson
Chemistry – Aaron Klug
Medicine – Sune K. Bergström, Bengt I. Samuelsson, John R. Vane
Literature – Gabriel García Márquez
Peace – Alva Myrdal, Alfonso García Robles
Economics – George Stigler
The Habits:
Listening to Michael Jackson's Thriller album, playing video games Ms. Pacman and Q*bert, Break dancing, Moon Walking, watching the film E.T., watching, and sometimes exercising with Jane Fonda' Workout videotape, wearing Deely Bobbers, playing with Strawberry Shortcake dolls.
1st Appearances & 1982's Most Popular Christmas Gifts, Toys and Presents:
Strawberry Shortcake, Smurfs, My Little Pony, BMX Bikes, Trivial Pursuit, Sequence
Popular and Best-selling Books From 1982:
2010: Odyssey Two by Arthur C. Clarke
An Indecent Obsession by Colleen McCullough
The BFD by Roald Dahl
The Color Purple by Alice Walker
The Dark Tower: The Gunslinger by Stephen King
The Death of Captain Marvel by Jim Starlin
Different Seasons by Stephen King
E.T., The Extraterrestrial by William Kotzwinkle
The Hotel New Hampshire by John Irving
The House of the Spirits by Isabel Allende
The Indian in the Cupboard by Lynne Reid Banks
The Man from St. Petersburg by Ken Follett
Master of the Game by Sidney Sheldon
Mistral's Daughter by Judith Krantz
Moo Baa La La La (board book) by Sandra Boynton
North and South by John Jakes
The One Minute Manager by Ken Blanchard and Spencer Johnson.
The Parsifal Mosaic by Robert Ludlum
The Prodigal Daughter by Jeffrey Archer
Soft as a Kitten by Auden Johnson
Space by James A. Michener
Waiting for the Barbarians by J.M. Coetzee
The Valley of Horses by Jean M. Auel
Broadway Show:
Torch Song Trilogy (Play) Opened on June 10, 1982, and closed on May 19, 1985
 Cats (Musical) Opened on October 7, 1982, and closed on September 10, 2000
Best Film Oscar Winner:
Chariots of Fire (presented in 1982)
The Bomb (Movie):
Inchon starring Laurence Olivier
The Big Movies: (according to boxofficemojo)
1. E.T.: The Extra-Terrestrial
2. Tootsie
3. An Officer And A Gentleman
4. Rocky III
5. Porky's
6. Star Trek II: The Wrath Of Kahn
7. 48 HRS
8. Poltergeist
9. The Best Little Whorehouse in Texas
10. Annie
1982 Most Popular TV shows:
1. 60 Minutes (CBS)
2. Dallas (CBS)
3. M*A*S*H (CBS)
4. Magnum, P.I. (CBS)
5. Dynasty (ABC)
6. Three's Company (ABC)
7. Simon & Simon (CBS)
8. Falcon Crest (CBS)
9. The Love Boat (ABC)
10. The A-Team ( NBC)
1982 Billboard Number One Songs:
November 21, 1981 – January 29, 1982:
Physical – Olivia Newton-John
January 30 – February 5:
I Can't Go for That (No Can Do) – Daryl Hall & John Oates
February 6 – March 19:
Centerfold – J. Geils Band
March 20 – May 7:
I Love Rock n' Roll – Joan Jett and the Blackhearts
May 8 – May 14:
Chariots of Fire theme Vangelis
May 15 – July 2:
Ebony and Ivory – Paul McCartney and Stevie Wonder
July 3 – July 23:
Don't You Want Me – The Human League
July 24 – September 3:
Eye of the Tiger – Survivor
September 4 – September 17:
Abracadabra – The Steve Miller Band
September 18 – October 1:
Hard to Say I'm Sorry – Chicago
October 2 – October 29:
Jack & Diane – John Mellencamp
October 30 – November 5:
Who Can It Be Now? – Men at Work
November 6 – November 26:
Up Where We Belong – Joe Cocker & Jennifer Warnes
November 27 – December 10:
Truly – Lionel Richie
December 11- December 17:
Mickey – Toni Basil
December 18, 1982 – January 14, 1983:
Maneater – Hall & Oates
Sports:
World Series Champions: St. Louis Cardinals
Superbowl XVI Champions: San Fransisco 49ers
NBA Champions: Los Angeles Lakers
Stanley Cup Champs: New York Islanders
U.S. Open Golf Tom Watson
U.S. Tennis: (Men/Ladies) Jimmy Connors/Chris Evert Lloyd
Wimbledon (Men/Women): Jimmy Connors/Martina Navratilova
NCAA Football Champions: Penn State
NCAA Basketball Champions: North Carolina
Kentucky Derby: Gato Del Sol
World Cup (Soccer): Italy