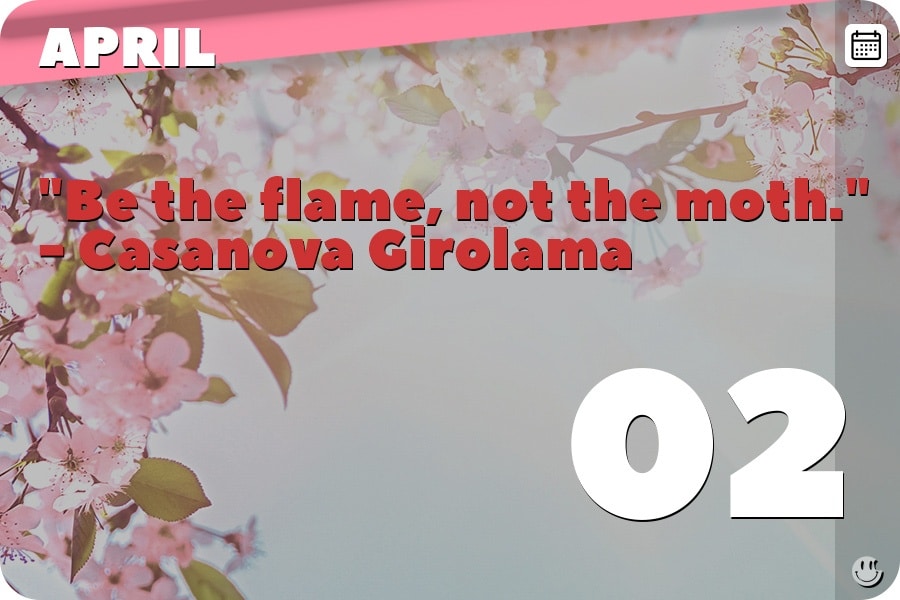 April 2 History, Trivia, and Fun Facts
April 2 History Highlights
1513 – Ponce de Leon discovered Florida.
1792 – The United States Mint was established via the Coinage Act.
1878 – The first White House Easter Egg Roll took place.
1917 – The Great War: US President Woodrow Wilson asked the American Congress for a declaration of war on Germany.
2006 – Over 60 tornadoes break out in the United States.
If you were born on April 2nd,
You were likely conceived the week of… July 10th (prior year)
April 2 is…
Burrito Day
Children's Book Day
Ferret Day
Peanut Butter And Jelly Day
Reconciliation Day
World Autism Awareness Day
April 2 Birthday Quotes
"If the populace knew with what idiocy they were ruled, they would revolt."
– Charlemagne
"I've succeeded at everything except my life."
– Serge Gainsbourg
"If you ask me what I came into this life to do, I will tell you: I came to live out loud."
– Emile Zola
"Be the flame, not the moth."
– Casanova Girolama
I love you in a place where there's no space or time
I love you for my life 'cause you're a friend of mine
– Leon Russell
"The whole world is a series of miracles, but we're so used to them we call them ordinary things."
– Hans Christian Andersen
April 2 Birthdays
747 – Charlemagne, Frankish king (died in 814)
1725 – Casanova Giovaani Giacomo Girolama, Italian adventurer (died in 1798)
1805 – Hans Christian Andersen, Danish novelist, short story writer, and poet (died in 1875)
1840 – Emile Zola, French naturalist (died in 1902)
1891 – Max Ernst, German painter, sculptor, and poet (died in 1976)
1908 – Buddy Ebsen, American actor and dancer (died in 2003)
1914 – Sir Alec Guinness, English actor (died in 2000)
1918 – Charles White, African-American artist (died in 1979)
1920 – Jack Webb, American actor, director, producer, and screenwriter (died in 1982)
1928 – Serge Gainsbourg, French singer-songwriter, actor, and director (died in 1991)
1939 – Marvin Gaye, American singer-songwriter (died in 1984)
1941 – Dr. Demento, American radio host
1942 – Leon Russell, American singer-songwriter and pianist (died in 2016)
1945 – Linda Hunt, American actress
1947 – Emmylou Harris, American singer-songwriter
1961 – Christopher Meloni, American actor
1962 – Clark Gregg, American actor, Agents of S.H.I.E.L.D
April 2 History
1513 – Spanish explorer Juan Ponce de Leon landed near what is now called St. Augustine, Florida and declared the land for Spain.

1792 – The Coinage Act was passed, establishing the United States Mint.

1827 – Lead pencils were began being manufactured by Joseph Dixon, who built his factory in Salem, Massachusetts

April 2, 19** Birthday (fictional) Sgt. Joe Friday, Dragnet, TV

1902 – "Electric Theatre", the first full-time movie theater in the United States, opened in Los Angeles.

1917 – The first woman ever elected to the U.S. Congress, Jeannette Rankin, takes her seat as a representative from Montana.

1953 – The journal Nature published a paper with this date from Francis Crick and James Watson, titled Molecular Structure of Nucleic Acids: A Structure for Deoxyribose Nucleic Acid, in which they described a double helix structure for DNA.

1956 – As the World Turns and The Edge of Night first aired on the CBS network in the United States, as the first half-hour serial dramas.

1956 – Elvis Presley sang Heartbreak Hotel on the Milton Berle Show, with an estimated 25% of the United States population viewing.

1972 – Charlie Chaplin returned to the United States for the first time since being labeled a communist during the Red Scare in the early 1950s.

1973 – The first portable cell phone call was placed in New York City.

1973 – Launch of the LexisNexis legal research service.

1978 – Dallas premiered on CBS.

1978 – Velcro, the hook-and-loop fastener patent, expired. Velcro comes from "vel" or velvet and "cro" from the French word crochet which means hook.

1982 – Cat People was released in theaters.

1992 – In New York, Mafia boss John Gotti is convicted of murder and racketeering and is later sentenced to life in prison.

1992 – Pope John Paul II died.

1996 – Suspected 'Unabomber' Theodore Kaczynski was arrested at his Montana cabin.

2004 – Hellboy and Walking Tall debuted in theaters.

2010 – Clash of the Titans was released in theaters (along with The Kraken)
Today's Random Trivia and Shower Thoughts
"Hokey religions and ancient weapons are no match for a good blaster by your side, kid." – Han Solo (Harrison Ford) #moviequotes

Ursula the Sea Witch from 'The Little Mermaid' was inspired by drag queen Divine.

TV Quotes… "Marcia, Marcia, Marcia!" (Jan Brady) on The Brady Bunch

"I have always depended on the kindness of strangers." – Blanche DuBois (Vivien Leigh) in A Streetcar Named Desire, 1951

In Ferris Bueller's Day Off, Ben Stein's economics lecture scene was completely improvised and done in one take.

The only domestic animal not mentioned in the Bible is the cat.

Twitter is just like a whole bunch of haiku's written by people who don't understand how haiku's are supposed to work.

The difference between a Million and a Billion is almost a Billion.

Aren't all galaxies 'far far' away?

"You only live once, but if you do it right, once is enough." – Mae West

US President #41 George Herbert Walker (Bush 1989-1993) 2nd most known quote: "I'm President of the United States, and I'm not going to eat any more broccoli!" Most known: "No New Taxes".
More Pop Culture History Resources