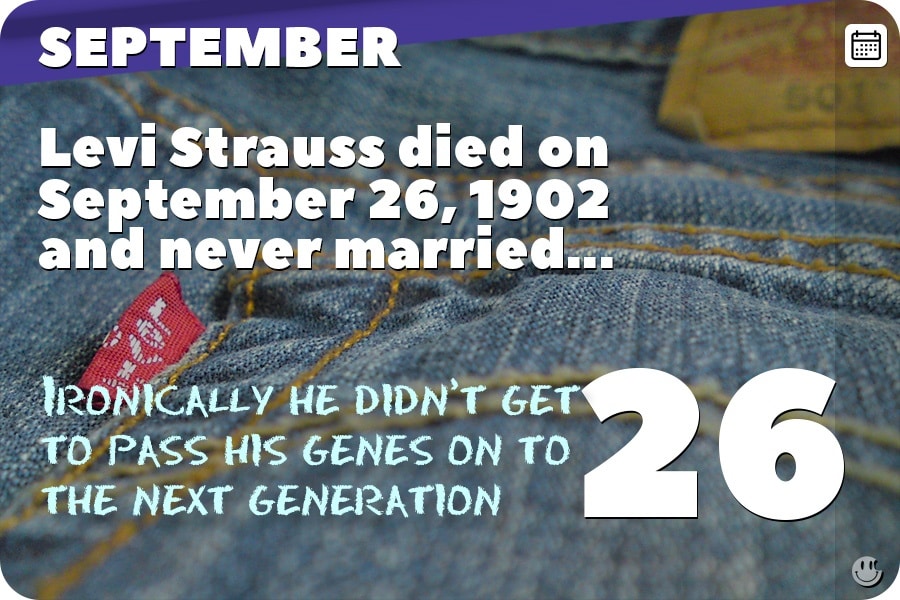 September 26th Facts, Fun Trivia and History
September 26th History Highlights
1580 – Francis Drake completed his circumnavigation of the Earth.
1789 – George Washington appointed Thomas Jefferson the first United States Secretary of State.
1957 – West Side Story debuted on Broadway
1960 – The first televised Presidential Debate took place between John F. Kennedy and Richard Nixon.
1969 – Abbey Road, the last album by The Beatles, was released.
If you were born on September 26th,
You were likely conceived the week of… January 3rd (same year)
Levi Strauss
Levi Strauss died on September 26,
1902
, at the age of 73, and never married.
Ironically he didn't get to pass his genes on to the next generation
The Nixon/ Kennedy Debates
The last several presidential elections in the United States have been historic in modern history. From Obama's campaign that ensured his return to Trump and Biden's heated political runs, the political environment shifts tremendously when election day is right around the corner. What stands out, is the use of modern media.
Incorporating media into election campaigns was not always the tradition. In fact, crafting a public image and gaining positive publicity on the media are the two elements that started getting incorporated into a majority of campaigns when the Kennedy-Nixon debate was aired on television in 1960.
This televised presidential debate holds great significance in American history due to many reasons. For one, it was the first-ever debate that took place on a platform accessible to the masses.  Secondly, the debate not only revolutionized the political environment of the US but also had a huge impact on the outcome of the entire electoral campaign. Moreover, the democratic process across the world continues to gain from television as a medium of communication.
Back in 1960, the presidential elections were held at a very critical time in American history. It was when the US was an active participant in a cold war with the Soviet Union, all because of the Sputnik satellite launched by the latter. Moreover, on a national level, people were divided due to the civil rights struggle and desegregation. All of this had collectively affected the democratic atmosphere in the country. At this rather crucial time when the nation needed a powerful leader, two very different candidates emerged on the political front, Richard Nixon, a lawmaker, and John F. Kennedy, a senator from Massachusetts.
The historical face-off took place on September 26th at the CBS office in Chicago. However, upon Nixon's arrival, a small accident led to his already injured knee getting worse. Moreover, he had already been suffering from a fever and flu. Despite his condition, he continued his campaign, and by the time he reached the CBS headquarters, the public could clearly see the exhaustion on his face. On the other hand, Kennedy looked well-rested as he had spent a relaxing weekend in a hotel and practiced enough for the "Great Debate."
Despite Kennedy's practice and Nixon's exhaustion, the event eventually came down to what substance they both had, they both matched on that front. They both made some great points in their debate and also shared many similar agendas. Their takes on the issue of national security and communism were quite similar. Additionally, they both also spoke about the need to train and strengthen the country's military to build a secure and solid foundation for the future of America.
Even though both contestants came with a competing spirit, Nixon ended the debate on the following note " I completely subscribe to the spirit expressed by Senator Kennedy tonight." They were actually friends.
While Nixon's popularity soared on the national radio, Kennedy garnered over 70 million viewers on television. As per the political observers, Kennedy had an obvious lead in the first debate while Nixon won the second and third one. Interestingly, the fourth and also the last debate was seen as a draw between the two.
September 26th is…
Astronomy Day
Johnny Appleseed Day
Love Note Day
Pancake Day
September 26th Birthday Quotes
"Everyone gets the experience. Some get the lesson."
– T. S. Eliot
"Do not worry at being worried; but accept worry peacefully. Difficult but not impossible."
– Johnny Appleseed
"There is no fountain of youth, What you put into your body is what you get out of it. You would not feed your dog a coffee and doughnut for breakfast followed by a cigarette. You will kill the damn dog."
– Jack LaLanne
"It's fabulous when you do that, when you discover somebody who you like when you kind of feel those feelings, even though he articulates them better."
– Bryan Ferry
"Life is a lot like jazz. It's best when you improvise."
– George Gershwin
September 26th Birthdays
1774 – Johnny Appleseed, American gardener, and environmentalist (died in 1845)
1888 – T.S. Eliot, English poet, playwright and critic, Nobel Prize laureate (died in 1965)
1898 – George Gershwin, American pianist, and composer (died in 1937)
1901
– George Raft, American actor (died in 1980)
1914
– Jack LaLanne, American fitness expert (died in
2011
)
1925
– Marty Robbins, American singer-songwriter and actor (died in
1982
)
1926
– Julie London, American singer, and actress (died in 2000)
1941 – Martine Beswick, Jamaican-English model, and actress
1945 – Bryan Ferry, English singer-songwriter
1946 – Louise Simonson, American comic book author
1956 – Linda Hamilton, American actress
1962
– Melissa Sue Anderson, American-Canadian actress
1967 – Shannon Hoon, American singer-songwriter and guitarist (died in
1995
)
1968
– Jim Caviezel, American actor
September 26th History
1933
– Gangster Machine Gun Kelly surrendered to the FBI and shouted out, "Don't shoot, G-Men!", which becomes a nickname for FBI agents.
1957 – West Side Story opened on Broadway.
1960 – Longest speech in UN history at 4 hours and 29 minutes, was given by Cuba's Fidel Castro.
1960 – American presidential candidates John F. Kennedy and Richard M. Nixon debate on live television and radio. Radio listeners said that Nixon won, and television viewers gave the win the Kennedy. Look good, people!
1960 – #1 Hit September 26, 1960 – October 9, 1960: Connie Francis – My Heart Has a Mind of Its Own
1962 – The Beverly Hillbillies premiered on CBS.
1964 – #1 Hit September 26, 1964 – October 16, 1964: Roy Orbison – Oh, Pretty Woman
1964 – Gilligan's Island premiered on CBS. Although scheduled for the fourth season, CBS changed the hour-long Gunsmoke to Mondays, displacing the 7 castaways.
1968 – Broadcast premiere of Hawaii Five-O on CBS
1969- The last Beatles album, Abbey Road, was released in the US.
1969 – The Brady Bunch debuted on ABC.
1982 – Knight Rider premiered on NBC
1982 – At the Movies with Gene Siskel and Roger Ebert premiered, in syndication
1987 – #1 Hit September 26, 1987 – October 9, 1987: Whitney Houston – Didn't We Almost Have It All
1990 – Cop Rock debuted on ABC
1990 – The Motion Picture Association of America announced a new rating of NC-17 to apply to adult films, replacing the "X" rating.
1992 – Roseanne Barr got her star on Hollywood's Walk of Fame.
1995 – George magazine premiered, published by John F Kennedy Jr.
2001 – Star Trek Enterprise premiered on UPN
2010 (Volcano Eruption) Baroarbunga
2011 – History International was rebranded as H2 on cable television
2011 – On September 26th, 2011 Mikey Welsh posted on Twitter, "Dreamt I died in Chicago next weekend (heart attack in my sleep). Need to write my will today" followed by, "Correction – the weekend after next". He died October 8th, 2011 from a heart attack in his sleep in a hotel room. In Chicago.
Today's Random Trivia and Shower Thoughts
Luke Skywalker went from wanting to join the imperial academy to blowing up the
Death
Star in like two days…
If your dreams do not scare you, they are not big enough.
"My God! What's happened?" – Diana, Princess of Wales #LastWords
Return of the Jedi was originally called "Revenge of the Jedi."
Nintendo started out as a trading card company.
A group of Kids is called a Migraine.
"So Dawn's in trouble. Must be Tuesday." – Buffy Summers #TVQuotes
If everyone throws out their worthless Beanie Baby collection, they'll eventually be rare and valuable.
When filming Return of the Jedi they used the name Blue Harvest to avoid press and fans trying to sneak onto the set.
The "g" in "bingo" is pronounced twice.
"I'm an excellent driver." – Raymond Babbitt in Rain Man #moviequotes
How come ghosts only come out at night?
More Pop Culture History Resources