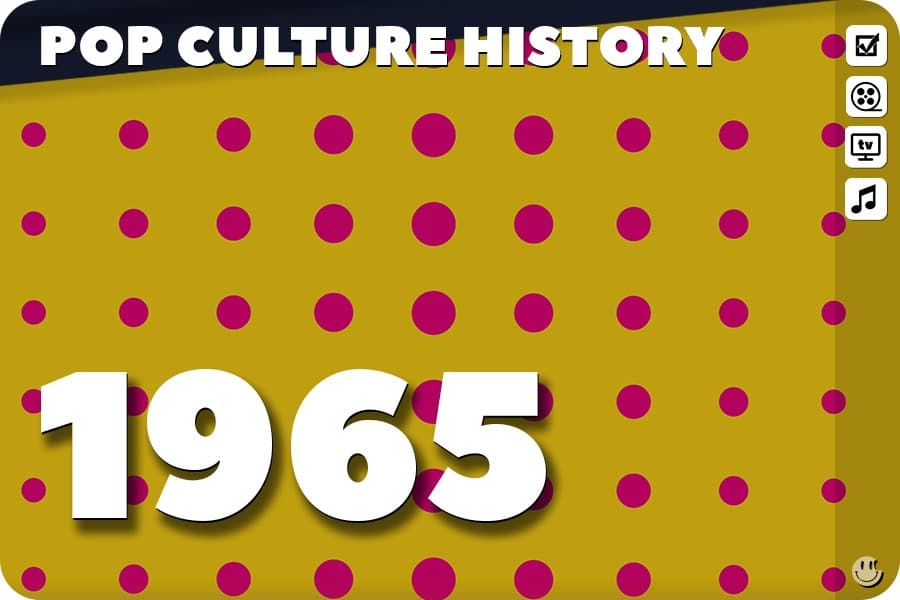 1965 Trivia, History and Fun Facts
Quick Facts from 1965
World-Changing Event: Dr. Martin Luther King Jr. led a civil rights march in Alabama from Selma to Montgomery.
America Changing Event: Race Riots broke out in Watts, California, leaving large parts of the city burned and looted and 34 people dead.
The Top Song was (I Can't Get No) Satisfaction by The Rolling Stones
The lyrics from The Byrds' 1965 song Turn! Turn! Turn! is taken almost verbatim from the book of Ecclesiastes in the King James Bible.
Influential Songs include Unchained Melody by The Righteous Brothers, California Girls by The Beach Boys, The "In" Crowd by Dobie Gray, and Hurt So Bad by Little Anthony and the Imperials.
The Motor Vehicle Air Pollution Control Act set the first federal automobile emission standards.
In St. Louis, Missouri, the 630-foot-tall parabolic steel Gateway Arch is completed.
The Movies to Watch include The Sound of Music, The Great Race, Doctor Zhivago, Help!, Doctor Who and the Daleks, For A Few Dollars More, The Greatest Story Ever Told, and Thunderball.
The Most Famous Person in America was probably Julie Andrews.
Notable books include Dune by Frank Herbert and Unsafe at Any Speed by Ralph Nader.
Price of a gallon of gas in 1965: 30 cents
Mueller's Macaroni: 43 cents for two one-pound packs
1 ounce of gold value: $35.50
The Funny Lady was: Joan Rivers
The Funny Guy was Don Rickles
The Funny Late Night Host: Johnny Carson
The Sports Drink: Gatorade was created at the University of Florida, which earns a 20% share of all Gatorade royalties.
Top Ten Baby Names of 1965
Lisa, Mary, Karen, Kimberly, Susan, Michael, John, David, James, Robert
The Hotties, Fashion Icons, and Sex Symbols
Ursula Andress, Brigitte Bardot, Carroll Baker, Claudia Cardinale, Julie Christie, Yvonne Craig, Catherine Deneuve, Angie Dickinson, Shirley Eaton, Barbara Eden, Jane Fonda, Virna Lisi, Sophia Loren, Tina Louise, Ann-Margret, Julie Newmar, Kim Novak, Sue Peterson, Diana Rigg, Tura Satana, Edie Sedgwick, Elke Sommer, Stella Stevens, Monica Vitti
Sex Symbols, Leading Men, and Hollywood Hunks
Sean Connery, Mick Jagger, Robert Redford, Tom Jones, Elvis Presley
"The Quotes"
"Sorry about that, Chief"
– Maxwell Smart
"Caution: Cigarette Smoking May Be Hazardous To Your Health"
– US Surgeon General
"Turn on, tune in, and drop out"
– Dr. Timothy Leary
Time Magazine's Man of the Year
William Westmoreland
Miss America
Vonda Van Dyke (Phoenix, AZ)
Miss USA
Sue Ann Downey (Ohio)
US Politics
January 20, 1965 (Wednesday) Second inauguration of Lyndon B. Johnson. The US had no Vice President for all of 1964. Lyndon Johnson never named a replacement. Hubert Humphrey became VP when he was inaugurated in 1965.
A US Senate subcommittee predicted that by the year 2000 Americans would be working 20 hours a week and vacationing 7+ weeks a year.
Scandal
Pete Best released an album in 1965 called Best of the Beatles that contained no Beatles music but fooled so many people into buying it that it was investigated for consumer fraud. The case was dropped because no fraud had been committed because he was Best, of the Beatles.
The Beatles At Shea Stadium
It was the first single-band mega-concert. The Beatles played at Shea Stadium in New York.
Ticket prices were $4.50, $5.00 to $5.75. You still buy those tickets today, on eBay for ~$200-300.
Before this, people performed for much smaller audiences, even Elvis or Frank Sinatra. The Beatles went on stage at 9:02 p.m. and were finished by 9:36 p.m. 34 Minutes. There was only the stadium sound system and a few hundred watts of sound for the band, who did not have monitors to hear each other. Three days later at their concert in Atlanta, a local audio company set up stage monitors for the band, a first.
During The Beatles' 1964 and 1965 tours of North America, the concerts would often end with Paul's wild vocal version of Little Richard's hit-song Long Tall Sally. Paul McCartney had played the song Long Tall Sally to impress John Lennon when the two met for the very first time. The Beatles also refused to play to a segregated audience as stipulated in their contract in 1965.
1965 Pop Culture Facts & History: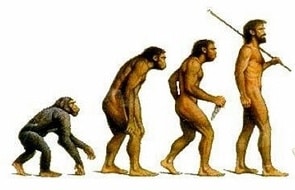 The famous The March of Progress illustration, known as The Road to Homo Sapiens, was created for the Early Man volume of the Life Nature Library, published in 1965.
The Tongan Castaways were six boys who stole a boat and were stranded on a deserted island in 1965, staying there for 15 months before rescue. Called a real-life Lord of the Flies, the boys built a "commune" with a garden, permanent fire, gym, and badminton court.
The snowboard was invented on Christmas Day, 1965, in Muskegon, Michigan, by Sherman Poppen, who was trying to distract his kids from his pregnant wife. It was originally called The Snurfer.
The flag of Canada was adopted on February 15, 1965.
Cosmonaut Alexei Leonov was the first person to 'walk' in space on March 18th, next to the Voskhod 2.
Astronaut John Young smuggled an illegal corned beef sandwich onboard the Gemini 3 spacecraft in 1965. He was given the first reprimand in NASA space mission history, and his snack remains the only contraband sandwich ever to make it into space.
On December 16, 1965, astronauts Wally Schirra and Tom Stafford became the first people to perform music in space when they played Jingle Bells on harmonica and bells that they smuggled onto the Gemini VI.
NASA, as a practical joke, played a parody of Hello Dolly, one of the biggest hits of the year, to wake the Gemini 6 crew in 1965. That started the tradition of waking astronauts up with songs.
After being rejected by 20 publishers, Frank Herbert's 1965 sci-fi classic Dune was finally picked up by Chilton Books. The publisher was previously known only for those big car repair manuals sold in auto parts stores.
Oceanic Airlines was at the center of Lost, but Oceanic has been mentioned dozens of times in Pop Culture, starting with a 1965 episode of Flipper.
Julie Andrews was the lead in the original Broadway production of My Fair Lady, but not in the 1964 film due to not being well-known enough; the role eventually went to Audrey Hepburn. Julie won the 1965 Best Actress Oscar over Hepburn for playing Mary Poppins.
Slumber Party Barbie dolls came with a diet book entitled How to Lose Weight telling her "Don't eat!" and a bathroom scale set at 110 lbs.
In May 1965, Minnesota's "Twin Cities" were at different times for two weeks when St. Paul and Minneapolis disagreed on when to start Daylight Saving Time.
The most successful Bond movie ever is Thunderball, released in 1965. The movie made over $141 million, over $1 billion today when inflation is adjusted.
James Russell invented the compact disc in 1965, although the public first got the first taste of this invention in 1980.
The first use of the F-word on television was on November 13, 1965, by literary agent Kenneth Tynan during a satirical discussion show on the BBC.
The first-ever "swear word" heard on American prime-time network TV was "damn" by "Miss Pringle" and was uttered on an episode of Favorite Martian in 1965.
Al Primo, news director of Philadelphia's KYW Channel 3, coined the term "Eyewitness News."
In 1965, Bob Dylan said that if he ever sold out to a commercial interest, it would be "ladies' garments." In 2007, he and his music appeared in a Victoria's Secret commercial.
One of Aretha Franklin's most popular songs, Respect, is a cover and was originally recorded by Otis Redding in 1965.
On The Rolling Stones record sleeves between 1963 and 1965, the band used the songwriter pseudonym "Nanker/Phelge" for collaborations where all band members took equal credit.
The lyrics from The Byrds' 1965 song Turn! Turn! Turn! is taken almost verbatim from the book of Ecclesiastes in the King James Bible.
Joseph Licklider's 1962 idea became a reality with his Intergalactic Computer Network in 1965, the first internet.
The largest newspaper to ever be printed for one day was the New York Times. It was a Sunday, October 17, 1965. The paper had 15 sections with 946 pages and weighed 7 1/2 lbs.
Mammoth Bone Hut' is the oldest house structure in the world – it is 15,000 years old and was found in 1965 near Kyiv, Ukraine.
The first T.G.I. Friday's restaurant opened in Manhattan.
Pickleball is a game that combines elements of badminton, tennis, and ping pong and has been around since 1965.
Gatorade was developed by the University of Florida in 1965 to give its players a competitive boost. The name comes from the UoF mascot, the Florida Gators.
Dick Butkus was drafted by both the Chicago Bears (NFL) and the Denver Broncos (AFL) in 1965, then had a few days to decide where to play. He chose the Bears for less money.
Vietnam War
Milton Olive III sacrificed his own life to save a group of soldiers by jumping onto a live grenade. He was posthumously awarded the Medal of Honor award, becoming the first African American of the Vietnam War to do so.
A Quaker named Norman Morrison set himself on fire in the parking lot of the Pentagon to protest the Vietnam War.
Lurleen Wallace (September 19, 1926 – May 7, 1968)
Lurleen Wallace was the first female governor of Alabama. Elected in 1967 and died 18 months later in office from cancer. Diagnosed in 1961, the doctor (as was the custom at that time) told her husband, Gov. George Wallace, who then kept the information secret from her until 1965.
The Habits
Bouncing Wham-O's Super-balls, Troll Dolls (Year 3)
Reading Unsafe at Any Speed by Ralph Nader
1st Appearances & 1965's Most Popular Christmas Gifts, Toys and Presents
Operation, Moon McDare action figures, James Bond Aston Martin from Corgi, Aurora Models, Green Ghost Game, Bash! Game, Flea Circus, Super Ball (which could bounce at 92% of the prior bounce), Rock Em' Sock Em' Robots, Mystery Date
Best Film Oscar Winner
My Fair Lady (presented in 1965)
Broadway Show
Man of La Mancha (Musical) Opened on November 22, 1965, and closed on June 26, 1971
Cactus Flower (Play) Opened on December 8, 1965, and closed on November 23, 1968
Popular and Best-selling Books From 1965
The Ambassador by Morris West
Ariel by Sylvia Plath
The Autobiography of Malcolm X as told to Alex Haley
Cosmicomics by Italo Calvino
Don't Stop the Carnival by Herman Wouk
Dune by Frank Herbert
Fox in Socks by Dr. Seuss
The Gospel According to Peanuts by Robert L. Short
The Green Berets by Robin Moore
Herzog by Saul Bellow
Hotel by Arthur Hailey
Kosmos by Witold Gombrowicz
The Looking Glass War by John le Carré
The Man with the Golden Gun by Ian Fleming
The Painted Bird by Jerzy Kosinski
The Source by James A. Michener
Those Who Love by Irving Stone
Unsafe at Any Speed – Ralph Nader
Up the Down Staircase by Bel Kaufman
1965 Most Popular TV Shows
1. Bonanza (NBC)
2. Gomer Pyle U.S.M.C. (CBS)
3. The Lucy Show (CBS)
4. The Red Skelton Show (CBS)
5. Batman (Thursday, ABC)
6. The Andy Griffith Show (CBS)
7. Bewitched (ABC)
8. The Beverly Hillbillies (CBS)
9. Hogan's Heroes (CBS)
10. Batman (Wednesday, ABC)
1965 Billboard Number One Songs
December 26, 1964 – January 15, 1965:
I Feel Fine – The Beatles
January 16 – January 22:
Come See About Me – The Supremes
January 23 – February 5:
Downtown – Petula Clark
February 6 – February 19:
You've Lost that Lovin' Feelin' – The Righteous Brothers
February 20 – March 5:
This Diamond Ring – Gary Lewis & The Playboys
March 6 – March 12:
My Girl – The Temptations
March 13 March 26:
Eight Days A Week – The Beatles
March 27 – April 9:
Stop! In The Name of Love – The Supremes
April 10 – April 23:
I'm Telling You Now – Freddie & The Dreamers
April 24 – April 30:
Game of Love – Wayne Fontana and the Mindbenders
May 1 – May 21:
Mrs. Brown, You've Got A Lovely Daughter – Herman's Hermits
May 22 – May 28:
Ticket to Ride – The Beatles
May 29 – June 11:
Help Me Rhonda – Beach Boys
June 12 – June 18:
Back In My Arms Again – The Supremes
June 19 – June 25:
I Can't Help Myself (Sugar Pie, Honey Bunch) – Four Tops
June 26 – July 2:
Mr. Tambourine Man – The Byrds
July 3 – July 9:
I Can't Help Myself (Sugar Pie, Honey Bunch) – Four Tops
July 10 – August 6:
(I Can't Get No) Satisfaction – Rolling Stones
August 7 – August 13:
I'm Henry VIII, I Am – Herman's Hermits
August 14 – September 3:
I Got You Babe – Sonny & Cher
September 4 – September 24:
Help! – The Beatles
September 25 – October 1:
Eve of Destruction – Barry McGuire
October 2 – October 8:
Hang on Sloopy – The McCoys
October 9 – November 5:
Yesterday – The Beatles
November 6 – November 19:
Get Off My Cloud – Rolling Stones
November 20 – December 3:
I Hear A Symphony – The Supremes
December 4 – December 24:
Turn! Turn! Turn! – The Byrds
December 25, 1965 – December 31, 1965:
Over and Over – The Dave Clark 5
Sports
World Series Champions: Los Angeles Dodgers
NFL Champions: Green Bay Packers
AFL Champions: Buffalo Bills
NBA Champions: Boston Celtics
Stanley Cup Champs: Montreal Canadians
U.S. Open Golf Gary Player
U.S. Tennis: (Men/Ladies) Manuel Santana/ Margaret Smith
Wimbledon (Men/Women): Roy Emerson/Margaret Smith
NCAA Football Champions: Alabama & Michigan
NCAA Basketball Champions: UCLA
Kentucky Derby: Lucky Debonair
More 1965 History Resources:
Most Popular Baby Names (BabyCenter.com)
Popular and Notable Books (popculture.us)
Broadway Shows that Opened in 1965X
1965 Calendar, courtesy of Time and Date.com
Fact Monster
1960s, Infoplease.com World History
1965 in Movies (according to IMDB)
Retrowaste Vintage Culture
1965 Television
Selma March
1960s Slang
Wikipedia 1965