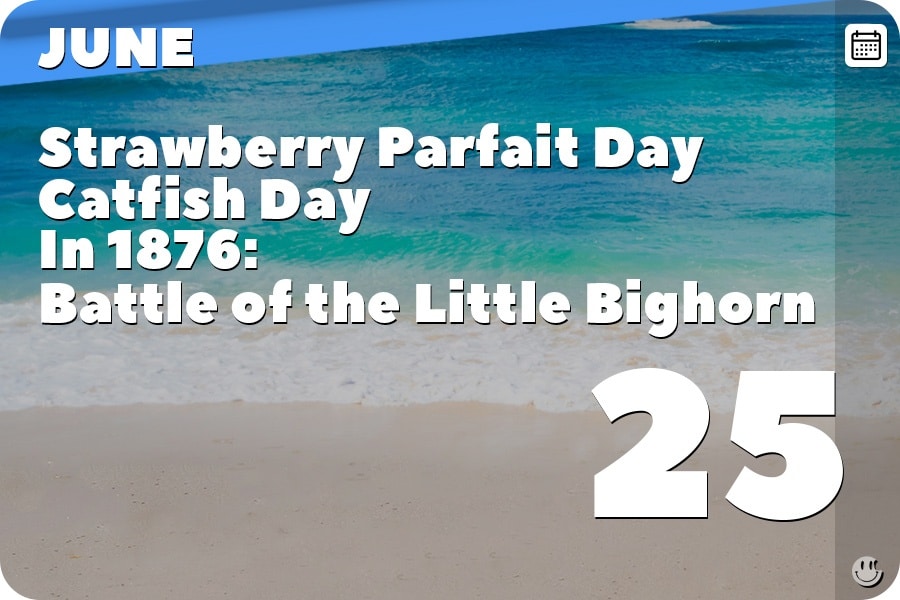 June 25 Facts, Fun Trivia and History
June 25 History Highlights
1788 – Virginia became the tenth state to ratify the United States Constitution.
1876 – Battle of the Little Bighorn and the death of Lieutenant Colonel George Armstrong Custer.
1950 -The Korean War began with the invasion of South Korea by North Korea.
1978 – The rainbow flag representing gay pride was presented for the first time during the San Francisco Gay Freedom Day Parade.
If you were born on June 25th,
You were likely conceived the week of… October 2nd (prior year)
The Battle of Little Big Horn
The Battle of the Little Bighorn, known to many as Custer's Last Stand and also referred to by some tribes who fought in it as Greasy Grass or the Battle on Holy Ground was an armed engagement that took place between combined forces of Lakota, Northern Cheyenne, Arapaho Tribes and U.S. 7th Cavalry Regiment during June 1876 at a location near what is now Crow Agency Montana.
The Lakota, Northern Cheyenne, and Arapaho were led by major war leaders like Crazy Horse and Chief Gall. They had been inspired by Sitting Bull's visions to fight the US 7th Cavalry troop of 700 men who suffered a devastating defeat at their hands. The total US casualty count included 268 dead and 55 severely wounded.
June 25 is…
Catfish Day
Please Take my Children to Work Day
Strawberry Parfait Day
June 25 Birthday Quotes
"The further a society drifts from truth the more it will hate those who speak it."
– George Orwell
"We need role models who are going to break the mold."
– Carly Simon
"I spent the first half of my career learning what to put into my work, and the second half learning what to leave out."
– Alex Toth
"Just because someone isn't working at an office doesn't mean they're not working hard at something."
– Linda Cardellini
"When you take the elevator to the top, please remember to send it back down so someone else might use it."
– Dikembe Mutombo
"The most effective way to destroy people is to deny and obliterate their own understanding of their history."
– George Orwell
June 25 Birthdays
1903 – George Orwell, British novelist, essayist, and critic (died in 1950)
1925 – June Lockhart, American actress
1928 – Peyo, Belgian author and illustrator, created The Smurfs (died in 1992)
1928 – Alex Toth, American animator and cartoonist (died in 2006)
1937 – Eddie Floyd, American R&B/soul singer-songwriter
1945 – Carly Simon, American singer-songwriter
1947 – Jimmie Walker, American comedic actor
1961 – Ricky Gervais, English comedian, actor, director and producer
1963 – George Michael, English singer-songwriter (died in 2016)
1966 – Dikembe Mutombo, Congolese-American basketball player
1975 – Linda Cardellini, American actress
1979 – Busy Philipps, American actress
1984 – Lauren Bush, American model and fashion designer
1996 – Lele Pons, Latina-American Internet personality
2006 – Mckenna Grace, American actress
June 25 History
1867 – Barbed wire was patented (#66,182) by Lucien B. Smith of Kent, Ohio.

1876 – Native American forces, led by Chiefs Crazy Horse and Sitting Bull, defeated the US Army troops lead by Lieutenant Colonel George Armstrong Custer in a battle near southern Montana's Little Bighorn River.

1910 – The US Congress passed the Mann Act, which prohibited interstate transport of females for "immoral purposes."

1910 – Igor Stravinsky's ballet The Firebird premiered in Paris,

1914 – The Great Salem Fire, Massachusettes

1944 – The final page of the comic strip Krazy Kat was published, months after the author, George Herriman died.

1947 – The Diary of a Young Girl (better known as The Diary of Anne Frank) was published.

1949 – The cartoon classic, Long-Haired Hare starring Bugs Bunny, was released in theaters.

1966 #1 Hit June 25, 1966 – July 8, 1966: The Beatles – Paperback Writer

1967 – The special Our World was the first live worldwide "via satellite" TV broadcast, transmitting to 30 countries via the BBC. The Beatles closed the show with All You Need Is Love. Performers include Mick Jagger, opera singer Maria Callas, Vienna Boys' Choir, Keith Richards, Keith Moon, Eric Clapton, Pattie Harrison, Jane Asher, Graham Nash, and others. The show lasted 2 and a half hours.

June 25, 19** (fiction) Clark Kent was adopted By Martha and Jonathan Kent, Superman, DC Comics

1977 #1 Hit June 25, 1977 – July 1, 1977: Marvin Gaye – Got to Give It Up (Part 1)

1978 – The rainbow flag, representing gay pride, was flown for the first time in the San Francisco Gay Freedom Day Parade.

1988 #1 Hit June 25, 1988 – July 1, 1988: Debbie Gibson – Foolish Beat

1996 – The Khobar Towers bombing in Saudi Arabia killed 19 US servicemen.

1997 – The National Hockey League approved expansion franchises for Nashville (1998), Atlanta (1999), Columbus (2000), and Minneapolis-Saint Paul (2000).

June 25, 1998 – Microsoft Windows 98 was released.

2009 – Michael Jackson died after suffering from cardiac arrest caused by a fatal combination of drugs given to him by his personal doctor, Conrad Murray.
Today's Random Trivia and Shower Thoughts
"I got laid off when they closed that asbestos factory, and wouldn't you know it, the army cuts my disability pension because they said that the plate in my head wasn't big enough." – Eddie

Cars are never locked and contain the keys needed to start them. #moviecliches

"Why not? Life is short. Life is dull. Life is full of pain. And this is a chance for something special." – Juan Antonio in Vicky Cristina Barcelona  #moviequotes

Michael Bay directed the music video for I Touch Myself by The Divinyls.

"Until you stalk and overrun, you cannot devour anyone." – Hobbes (Bill Watterson)

"I'll get you, my pretty, and your little dog too!" – Wicked Witch of the West (Margaret Hamilton) #moviequotes

The Chipmunks Alvin, Simon, and Theodore are named after their voice types: Alto, Soprano, and Tenor.

Useless Pronunciation: E as in exceed

I wonder if a few hundred years from now, people will analyze songs from today like we analyze Bach or Beethoven. #UptownFunk

The Moon is roughly 27% the size of Earth But that the Moon's Mass is only about 1.2% of Earth's Mass

William Bonney (Billy the Kid) – Real Name: Henry McCarty (according to some records)
More Pop Culture History Resources