2011 Pop Culture History
Quick Facts from 2011:
World Changing Event: Snapchat App became available
The Top Song was We Found Love by Rihanna
Influential Songs include: Little Lion Man by Mumford and Sons, It Will Rain by Bruno Mars, Pumped Up Kicks by Foster The People, and Born This Way by Lady Gaga
The Movies to Watch include Harry Potter and the Deathly Hallows Part 2, We Bought a Zoo, The Help, and Mission: Impossible – Ghost Protocol
People Magazine's Sexiest Man Alive: Bradley Cooper
Notable books include: Steve Jobs by Walter Isaacson
Price of a gallon of gas in 2011: $3.58
Croft & Barrow Necktie: $34.00
Nike sneakers: $59.99/pair
The Funny Guy was: Daniel Tosh
In 2011 it cost 2.41 cents to make a single American Penny.
The Billionaire: JK Rowling was the youngest self-made female billionaire in 2011, although charitable giving has put her into the hundreds of millions range since then.
Year of The Rabbit
The year of the rabbit is one of the 12 years in the Chinese zodiac cycle. The rabbit is the fourth animal in the cycle.
The years of the rabbit include: 1927, 1939, 1951, 1963, 1975, 1987, 1999, 2011, 2023, 2035, 2047, and 2059
The year of the rabbit is associated with elegance, diplomacy, and good luck. People born in the year of the rabbit are said to be kind, gentle, and sensitive. They are also said to be wise, discreet, and have a good sense of humor. They are usually good at avoiding conflicts, and they are very good listeners. They are also very sensitive, so they can easily understand other people's feelings. They are said to be lucky in love and money matters. They are also known to be good at art and design.
Top Ten Baby Names of 2011:
Sophia, Isabella, Emma, Olivia, Ava, Jacob, Mason, William, Jayden, Noah
Fashion Icons and Sex Symbols:
Mila Kunis, Jennifer Lawrence, Anne Hathaway, Katy Perry, Emma Watson, Bar Refaeli, Blake Lively, Rosie Huntington-Whiteley, Cobie Smulders, Olivia Munn, Cameron Diaz, Kate Middleton
The Heartthrob(s):
Colin Firth, Ryan Gosling, Bradley Cooper, Taylor Lautner, Johnny Depp, Rob Pattinson, Hugh Laurie, Joe Manganiello, Tim Tebow, Brad Pitt
"The Quote:"
"I'm a winner" – Charlie Sheen
Time Magazine's Man of the Year:
The Protester
Miss America:
Teresa Scanlan
Miss USA:
Alyssa Campanella
The Picture: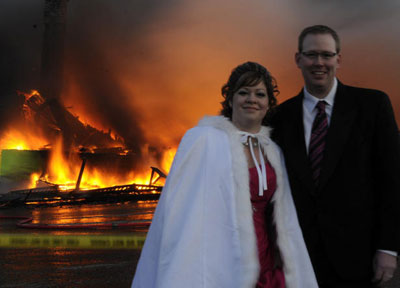 "It was completely engulfed and everything was up in flames," said bride Nancy Rogers, posing here with new husband Mike as White Point Beach Resort's main lodge burned in the background. "We lost all of that stuff, but that's not important to us. We got the most important things."
The Scandal:
Charlie Sheen
Whas New:
Dynamic Eye Sunglasses, invented by Chris Mullin, block sun glare instantly with liquid crystal lenses.
The Habit:
Playing Angry Birds
2011 Toys inducted to the National Toy Hall of Fame:
Hot Wheels, Dollhouse, Blanket
2011's Most Popular Christmas Gifts, Toys and Presents:
LeapFrog LeapPad, Amazon Kindle Fire
Best Film Oscar Winner:
The King's Speech
Broadway Show – Spider-Man: Turn Off the Dark (Musical) Opened on June 14, 2011, and closed on January 4, 2014
2011 Entries to The National Film Registry:
Allures (released in 1961)
Bambi (released in 1942)
The Big Heat (released in 1953)
A Computer Animated Hand (released in 1972)
Crisis: Behind a Presidential Commitment (released in 1963)
The Cry of the Children (released in 1912)
A Cure for Pokeritis (released in 1912)
El Mariachi (released in 1992)
Faces (released in 1968)
Fake Fruit Factory (released in 1986)
Forrest Gump (released in 1994)
Growing Up Female (released in 1971)
Hester Street (released in 1975)
I, an Actress (released in 1977)
The Iron Horse (released in 1924)
The Kid (released in 1921)
The Lost Weekend (released in 1945)
The Negro Soldier (released in 1944)
Nicholas Brothers' Home Movies (released in 1930s-'40s)
Norma Rae (released in 1979)
Porgy and Bess (released in 1959)
The Silence of the Lambs (released in 1991)
Stand and Deliver (released in 1988)
Twentieth Century (released in 1934)
War of the Worlds (released in 1953)
The Big Movies: (according to boxofficemojo)
1. Harry Potter and the Deathly Hallows Part 2
2. Transformers: Dark of the Moon
3. Pirates of the Caribbean: On Stranger Tides
4. The Twilight Saga: Breaking Dawn Part 1
5. Kung Fu Panda 2
6. Fast Five
7. Mission: Impossible – Ghost Protocol,
8. The Hangover Part II
9. The Smurfs
10. Cars 2
2011/12 Most Popular TV Shows:
1. NBC Sunday Night Football (NBC)
2. American Idol (Fox)
3. The Voice (NBC)
4. Modern Family (ABC)
5. Big Bang Theory (CBS)
6. Two and a Half Men (CBS)
7. X-Factor (Fox)
8. 2 Broke Girls (CBS)
9. Grey's Anatomy (ABC)
10. New Girl (Fox)
Sports:
World Series Champions: St. Louis Cardinals
Superbowl Champions: Green Bay Packers
NBA Champions: Dallas Mavericks
Stanley Cup Champs: Boston Bruins
U.S. Open Golf Rory Mcllroy
U.S. Tennis: (Men/Ladies) Novak Djokovic/Samantha Stosur
Wimbledon (Men/Women): Novak Djokovic/Petra Kvitova
NCAA Football Champions: North Dakota State
NCAA Basketball Champions: UConn Huskies
Kentucky Derby: Animal Kingdom
Save
Save