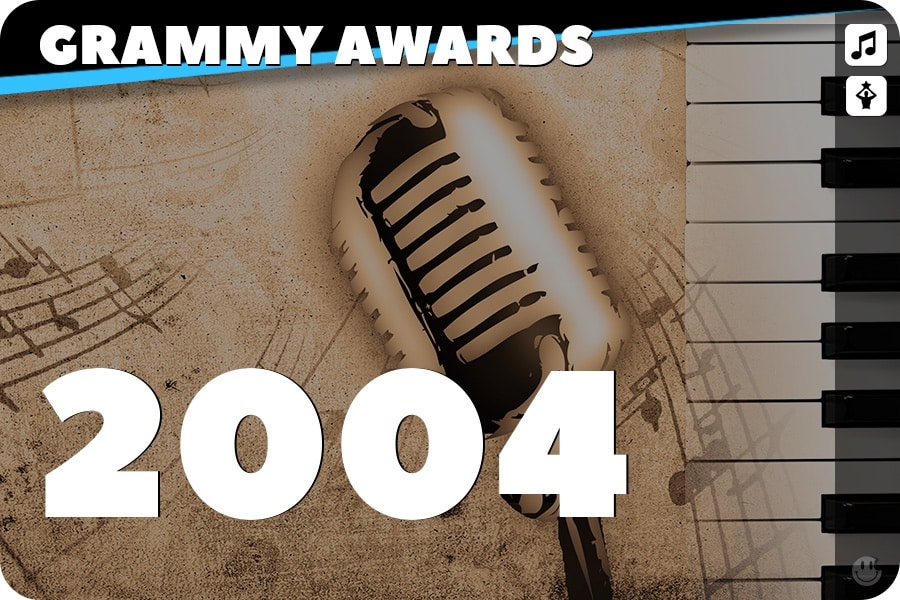 2004 Grammy Award Winners
Winners Announced: February 8, 2004
Held at: Staples Center, Los Angeles
Host: No official host
Trivia
OutKast's double album Speakerboxxx/The Love Below bagged the Album of the Year, marking a significant moment for hip-hop in the Grammys.
Beyoncé had a stellar night, winning five Grammys, including Best Female R&B Vocal Performance for Dangerously in Love 2.
Cold Mountain provided a rare moment for bluegrass music, as the song Scarlet Tide, co-written by Elvis Costello, won in the Best Song Written for Visual Media category.
Warren Zevon, who had been diagnosed with terminal lung cancer, was posthumously awarded two Grammys, adding an emotional note to the evening.
Smooth jazz saxophonist George Benson and powerhouse vocalist Al Jarreau teamed up for a cover of Take Five that won the Best Pop Instrumental Performance.
A Day in the Life by Herbie Hancock, Michael Brecker, and Roy Hargrove won the award for Best Jazz Instrumental Solo.
Luther Vandross, unable to attend due to health issues, won four Grammys, including Song of the Year for Dance with My Father.
The late Johnny Cash received three nominations and one win for his cover of Nine Inch Nails' song Hurt in the Best Short Form Music Video category.
Christina Aguilera's Beautiful was honored with Best Female Pop Vocal Performance, and the song's writer, Linda Perry, received a nomination for Song of the Year.
Evanescence won Best New Artist, despite controversies surrounding the band's categorization in the rock genre.
2004 Grammy Winners
Record:
Clocks – Coldplay
Album:
Speakerboxxx/The Love Below, Outkast
Song of the year:
Dance with My Father – Richard Marx, Luther Vandross, songwriters (Luther Vandross)
New Artist:
Evanescence
Female Pop Vocal:
Beautiful – Christina Aguilera
Male Pop Vocal:
Cry Me a River – Justin Timberlake
Pop Duo or Group with Vocals:
Underneath It All – No Doubt
Pop Collaboration with Vocals:
Whenever I Say Your Name – Sting, Mary J. Blige
Pop Instrumental:
Marwa Blues – George Harrison
Pop Instrumental Album:
Mambo Sinuendo, Ry Cooder, Manuel Galban
Pop Vocal Album:
Justified, Justin Timberlake
Dance Recording:
Come Into My World – Kylie Minogue
Traditional Pop Vocal Album:
A Wonderful World, Tony Bennett, k.d. lang
Female Rock Vocal:
Trouble – Pink
Male Rock Vocal:
Gravedigger – Dave Matthews
Rock Duo or Group with Vocals:
Disorder in the House – Warren Zevon, Bruce Springsteen
Hard Rock:
Bring Me To Life – Evanescence featuring Paul McCoy
Metal:
St. Anger – Metallica
Rock Instrumental:
Plan B – Jeff Beck
Rock Song:
Seven Nation Army – Jack White, songwriter (The White Stripes)
Rock Album:
One by One – Foo Fighters
Alternative Music Album:
Elephant – The White Stripes
Female R&B Vocal:
Dangerously In Love – Beyoncé
Male R&B Vocal:
Dance with My Father – Luther Vandross
R&B Duo or Group with Vocals:
The Closer I Get To You – Beyoncé & Luther Vandross
Traditional R&B Vocal:
Wonderful – Aretha Franklin
Urban/Alternative Vocal:
Hey Ya! – Outkast
R&B Song:
Crazy in Love – Shawn Carter, Rich Harrison, Beyoncé Knowles, Eugene Record, songwriters (Beyoncé featuring Jay-Z)
R&B Album:
Dance with My Father – Luther Vandross
Contemporary R&B Vocal Album:
Dangerously In Love – Beyoncé
Female Rap Solo:
Work It – Missy Elliott
Male Rap Solo:
Lose Yourself – Eminem
Rap Duo or Group:
Shake Ya Tailfeather – Nelly, P. Diddy & Murphy Lee
Rap Sung/Collaboration:
Crazy in Love – Beyoncé featuring Jay-Z
Rap Song:
Lose Yourself – J. Bass, M. Mathers, L. Resto, songwriters (Eminem)
Rap Album:
Speakerboxxx/The Love Below – Outkast
Female Country Vocal:
Keep on the Sunny Side – June Carter Cash
Male Country Vocal:
Next Big Thing – Vince Gill
Country Duo or Group with Vocals:
A Simple Life – Ricky Skaggs & Kentucky Thunder
Country Collaboration with Vocals:
How's the World Treating You – James Taylor, Alison Krauss
Country Instrumental:
Cluck Old Hen – Alison Krauss & Union Station
Country Song:
It's Five O'Clock Somewhere – Jim ·Moose· Brown, Don Rollins, songwriters (Alan Jackson, Jimmy Buffett)
Country Album:
Livin', Lovin', Losin' – Songs of the Louvin Brothers, various artists
Bluegrass Album:
Live – Alison Krauss & Union Station
New Age Album:
One Quiet Night – Pat Metheny
Contemporary Jazz Album:
34th N Lex – Randy Brecker
Jazz Vocal Album:
A Little Moonlight – Dianne Reeves
Jazz Instrumental, Solo:
Matrix – Chick Corea
Jazz Instrumental Album:
Alegria – Wayne Shorter
Large Jazz Ensemble Album:
Wide Angles – Michael Brecker Quindectet
Latin Jazz Album:
Live at the Blue Note – Michel Camilo with Charles Flores & Horacio ·El Negro· Hernandez
Rock Gospel Album:
Worldwide – Audio Adrenaline
Pop/Contemporary Gospel Album:
Worship Again – Michael W. Smith
Southern, Country, or Bluegrass Gospel Album:
Rise and Shine – Randy Travis
Traditional Soul Gospel Album:
Go Tell It On the Mountain – The Blind Boys of Alabama
Contemporary Soul Gospel Album:
Again – Donnie McClurkin
Gospel Album by a Choir or Chorus:
A Wing and a Prayer – Bishop T. D. Jakes, choir director; The Potter's House Mass Choir
2004 Grammy Award Winners
No Es Lo Mismo – Alejandro Sanz
Latin Rock/Alternative Album:
Cuatro Caminos – Café Tacuba
Tropical Latin Album:
Buenos Hermanos – ,Ibrahim Ferrer
Salsa/Merengue Album:
Regalo Del Alma – Celia Cruz
Mexican/Mexican-American Album:
Afortunado – Joan Sebastian
Tejano Album:
Si Me Faltas Tu, Jimmy Gonzalez y El Grupo Mazz
Traditional Blues Album:
Blues Singer – Buddy Guy
Contemporary Blues Album:
Let's Roll – Etta James
Traditional Folk Album:
Wildwood Flower – June Carter Cash
Contemporary Folk Album:
The Wind – Warren Zevon
Native American Music Album:
Flying Free – Black Eagle
Reggae Album:
Dutty Rock – Sean Paul
Traditional World Music Album:
Sacred Tibetan Chant – The Monks of Sherab Ling Monastery
Contemporary World Music Album:
Voz D'Amor – Cesaria Evora
Polka Album:
Let's Polka 'Round – Jimmy Sturr
Musical Album for Children:
Bon Appetit! – Cathy Fink and Marcy Marxer
Spoken Word Album for Children:
Prokofiev: Peter and the Wolf/Beintus: Wolf Tracks – Bill Clinton, Mikhail Gorbachev, Sophia Loren
Spoken Word Album:
Lies and the Lying Liars Who Tell Them: A Fair and Balanced Look at the Right – Al Franken
Comedy Album:
Poodle Hat – Weird Al Yankovic
Musical Show Album:
Gypsy – Jay David Saks, producer; Jule Styne, composer; Stephen Sondheim, lyricist
Best Compilation Soundtrack Album for a Motion Picture, Television, or Other Visual Media:
Chicago – Various Artists
Best Score Soundtrack Album for a Motion Picture, Television, or Other Visual Media:
The Lord of the Rings: The Two Towers – Howard Shore, composer
Song Written for a Motion Picture, Television, or Other Visual Media:
A Mighty Wind· (from A Mighty Wind) – Christopher Guest, Eugene Levy, Michael McKean
Instrumental Composition:
Sacajawea – Wayne Shorter – composer (Wayne Shorter)
Instrumental Arrangement:
Timbuktu – Michael Brecker, Gil Goldstein, arrangers (Michael Brecker Orchestra)
Instrumental Arrangement with Accompanying Vocals:
Woodstock – Vince Mendoza, arranger (Joni Mitchell)
Best Recording Package:
Evolve – Ani DiFranco and Brian Grunert, art directors
Best Boxed Recording Package:
The Complete Jack Johnson Sessions – Julian Alexander, Howard Fritzson and Seth Rothstein, art directors
Best Album Notes:
Martin Scorsese Presents the Blues: A Musical Journey – Tom Piazza, album notes writer
Historical Album:
Martin Scorsese Presents The Blues: A Musical Journey
Best Engineered Album – Non-Classical:
Hail to the Thief – Nigel Godrich and Darrell Thorp, engineers (Radiohead)
Producer, Non-Classical:
The Neptunes
Best Remixed Recording, Non-Classical:
Crazy in Love (Maurice's Soul Mix) – Maurice Joshua, remixer (Beyoncé featuring Jay-Z)
Best-Engineered Album – Classical:
Obrigado Brazil – Richard King and Todd Whitelock, engineers
Classical Producer:
Steven Epstein
Classical Album:
Mahler: Symphony No. 3; Kindertotenlieder – Michael Tilson Thomas, conductor; Andreas Neubronner, producer
Orchestral Performance:
Mahler: Symphony No. 3 – Pierre Boulez, conducter (Vienna Philharmonic)
Opera Recording:
Janácek: Jenufa – Bernard Haitink, conductor
Choral Performance:
Sibelius: Cantatas – Paavo Jarvi, conductor
Instrumental Soloist with Orchestra:
Britten: Violin Concerto/Walton: Viola Concerto – Maxim Vengerov, violin & viola with the London Symphony Orchestra
Instrumental Soloist Without Orchestra:
Haydn: Piano Sonatas Nos. 29, 31, 34, 35 & 49 – Emanuel Ax, piano
Chamber Music:
Berg: Lyric Suite – Kronos Quartet & Dawn Upshaw, soprano
Small Ensemble Performance (with or Without Conductor):
Chavez: Suite for Double Quartet – Jeff von der Schmidt, conductor; Southwest Chamber Music
Classical Vocal:
Schubert: Lieder with Orchestra – Thomas Quasthoff, bass-baritone; Anne Sofie von Otter, mezzo soprano
Classical Contemporary Composition:
Argento: Casa Guidi – Dominick Argento
Classical Crossover Album:
Obrigado Brazil – Jorge Calandrelli, conductor; Yo-Yo Ma, cello
Music Video, Short Form:
Hurt – (Johnny Cash) – Mark Romanek, director
Music Video, Long Form:
Legend, (Sam Cooke) – Allen Klein, director
Lifetime Achievement Awards:
Van Cliburn, The Funk Brothers, Ella Jenkins, Sonny Rollins, Artie Shaw, Doc Watson
Trustees Award:
Orrin Keepnews, Gerry Goffin and Carole King, Marian McPartland