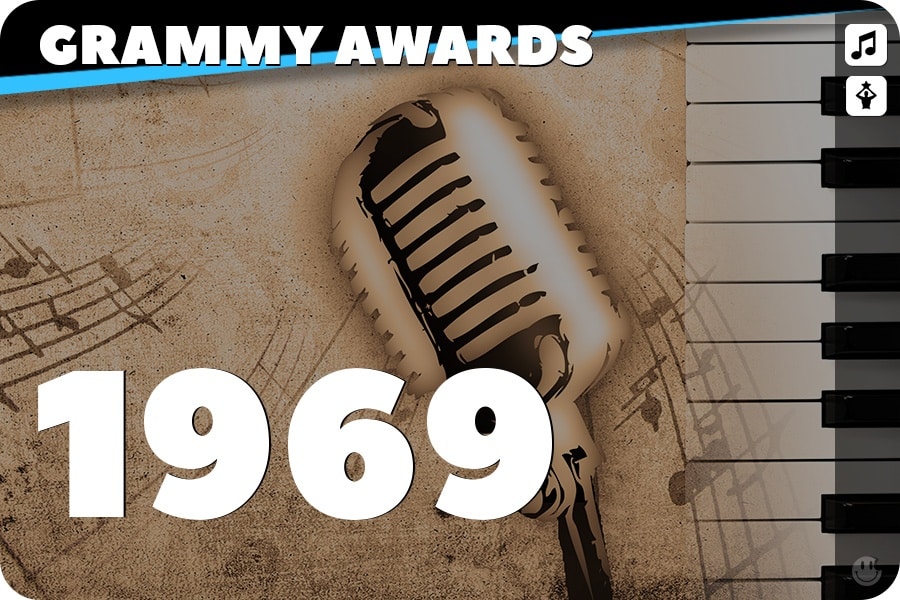 1969 Grammy Award Winners
Winners Announced: March 12, 1969
Televised "Best On Record": May 5, 1969
Held at: Chicago, Los Angeles, Nashville & New York
Opening/Closing: Rowan and Martin
Eligibility Year: November 2, 1967 – November 1, 1968
Musical Highlights and Achievements
By the Time I Get to Phoenix Emerges Victorious: Glen Campbell's hit album won the Album of the Year, highlighting the influence of country-pop during this period.
Simon & Garfunkel's Mrs. Robinson: The iconic song from The Graduate walked away with Record of the Year.
Jazz Legend Gets Recognized: Duke Ellington won Best Original Jazz Composition for "In the Beginning God," marking a significant win for the jazz community.
Trivia and Noteworthy Moments
Comedy Duo: Rowan and Martin, popular for their sketch comedy show Laugh-In, served as the Opening and Closing act, adding a dose of humor to the proceedings.
A Night of Firsts: José Feliciano snagged Best New Artist, making history as the first artist to win that category with an album primarily sung in Spanish.
Cross-Genre Appreciation: The Grammys were diverse this year, with winners spanning from jazz and country to rock and folk, reflecting the eclectic musical tastes of the late '60s.
1969 Grammy Winners
Record of the Year:
Mrs. Robinson – Simon and Garfunkel
Album of the Year:
By the Time I Get to Phoenix, Glen Campbell (Capitol)
Song of the Year:
Little Green Apples – Bobby Russell, songwriter
Best New Artist of 1968:
José Feliciano
Best Contemporary Pop Vocal Performance, Male:
Light My Fire – José Feliciano
Best Contemporary Pop Vocal Performance, Female:
Do You Know the Way to San Jose – Dionne Warwick
Best Contemporary Pop Vocal Performance, Duo or Group:
Mrs. Robinson – Simon and Garfunkel
Best Contemporary Pop Performance, Chorus:
Mission Impossible/Norwegian Wood (medley), Alan Copeland Singers
Best Contemporary Pop Performance, Instrumental:
Classical Gas – Mason Williams
Best Rhythm and Blues Song:
(Sittin' On) The Dock of the Bay – Otis Redding and Steve Cropper, songwriters
Best Rhythm and Blues Vocal Performance, Male:
(Sittin' On) The Dock of the Bay – Otis Redding
Best Rhythm and Blues Vocal Performance, Female:
Chain of Fools – Aretha Franklin
Best Rhythm and Blues Performance By a Duo or Group, Vocal or Instrumental:
Cloud Nine – The Temptations
Best Instrumental Jazz Performance, Small Group or Soloist With Small Group:
Bill Evans at the Montreux Jazz Festival, Bill Evans Trio
Best Instrumental Jazz Performance, Large Group or Soloist With Large Group:
And His Mother Called Him Bill – Duke Ellington
Best Country Song:
Little Green Apples – Bobby Russell, songwriter
Best Country Vocal Performance, Male:
Folsom Prison Blues – Johnny Cash
Best Country Vocal Performance, Female:
Harper Valley P.T.A. – Jeannie C. Riley
Best Country Performance, Duo or Group Vocal or Instrumental:
Foggy Mountain Breakdown – Flatt and Scruggs
Best Sacred Performance:
Beautiful Isle of Somewhere – Jack Hess
Best Gospel Performance:
The Happy Gospel of the Happy Goodmans, Happy Goodman Family
Best Soul Gospel Performance:
The Soul of Me – Dottie Rambo
Best Folk Performance:
Both Sides Now – Judy Collins
Best Instrumental Arrangement:
Classical Gas – Mike Post, arranger
Best Arrangement Accompanying Vocalist(s):
MacArthur Park – Jimmy L. Webb, arranger
Best Instrumental Theme:
Classical Gas – Mason Williams, composer
Best Score From an Original Cast Show Album:
Hair, Gerome Ragni, James Rado and Galt MacDermott, composers (RCA)
Best Original Score Written for a Motion Picture or a Television Special:
The Graduate, Paul Simon and Dave Grusin, composers
Best Classical Performance, Orchestra:
Boulez Conducts Debussy, Pierre Boulez conducting New Philharmonia Orchestra
Best Chamber Music Performance:
Gabrieli, Canzoni for Brass, Winds, Strings and Organ, E. Power Biggs with Edward Tarr Ensemble and Gabrieli Consort; Vittorio Negri, conductor
Best Classical Performance, Instrumental Soloist(s) (With or Without Orchestra):
Horowitz on Television, Vladimir Horowitz
Best Opera Recording:
Mozart, Cosi fan tutte, Erich Leinsdorf conducting New Philharmonia Orchestra and Ambrosian Opera Chorus; solos: Price, Raskin, Troyanos, Milnes, Shirley and Flagello (RCA)
Best Choral Performance (Other Than Opera):
The Glory of Gabrieli, Vittorio Negri conducting Gregg Smith Singers and Texas Boys Choir; George Bragg directing Edward Tarr Ensemble with E. Power Biggs
Best Classical Vocal Soloist Performance:
Rossini Rarities, Montserrat Caballe; Carlo Felice Cillario conducting RCA Italiana Opera Orchestra and Chorus
Best Comedy Recording:
To Russell, My Brother, Whom I Slept With, Bill Cosby (Warner Bros.)
Best Spoken Word Recording:
Lonesome Cities, Rod McKuen (Warner Bros.-Seven Arts)
Best Album Cover:
Underground, John Berg and Richard Mantel, art directors (Columbia)
Best Album Notes:
Johnny Cash at Folsom Prison, Johnny Cash, annotator