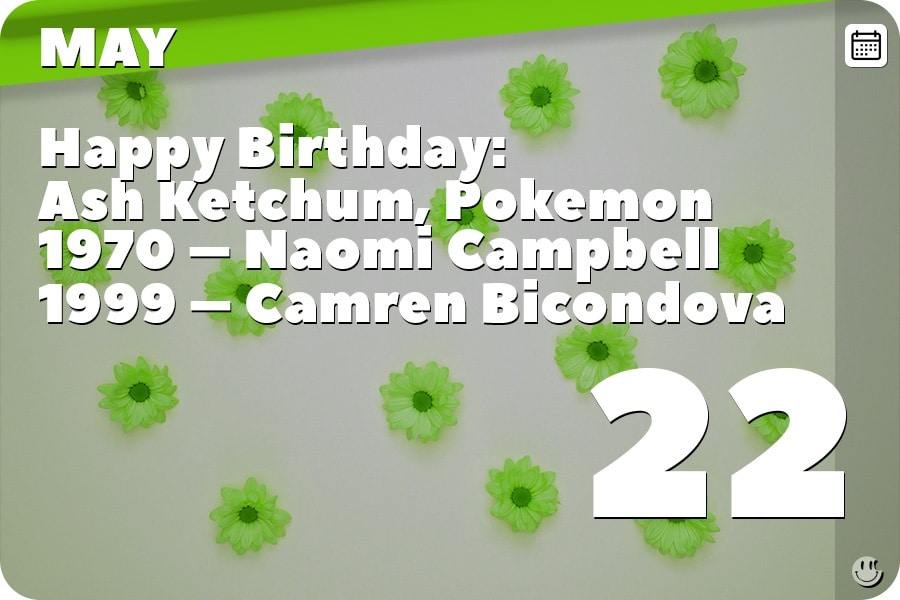 May 22 Facts, Fun Trivia and History
May 22 History Highlights
1804 – The Lewis and Clark Expedition officially began, from St. Charles, Missouri.
US President #16 Abraham Lincoln was the first U.S. President to receive a patent, on his floating drydock on May 22, 1849, US patent #6469.
1906 – The Wright brothers were granted US Patent (#821,393) for their "Flying-Machine".
1964 – Lyndon B. Johnson launched The Great Society.
May 22, 1990 – Microsoft Windows 3.0 was released.
May 22 Birthday (fictional) Ash Ketchum, Pokemon
If you were born on May 22nd,
You were likely conceived the week of… August 29th (prior year)
Sir Arthur Conan Doyle
Sir Arthur Conan Doyle (May 22, 1859 – July 7, 1930), the writer of Sherlock Holmes, ingested a small amount of poison and kept increasing the amount every day until he could no longer stand the ill effects. He stopped his experiment after being stricken by "persistent diarrhea, severe frontal headache, and great depression"
May 22 is…
Buy a Musical Instrument Day
Maritime Day
Vanilla Pudding Day
May 22 Birthday Quotes
"If you have to talk to more than three people about the same problem, you don't want help, you want attention."
– Naomi Campbell
"You see, but you do not observe."
– Arthur Conan Doyle
"The possible has been tried and failed. Now it's time to try the impossible."
– Sun Ra
"By believing in his dreams, man turns them into reality."
– Herge
"I think it's weird seeing myself on the television, but it's great!"
– Camren Bicondova
"Life is infinitely stranger than anything which the mind of man could invent."
– Arthur Conan Doyle
May 22 Birthdays
1813 – Richard Wagner, German composer (died in 1883)
1859 – Sir Arthur Conan Doyle, British writer (died in 1930)
1907 – Hergé, Belgian author and illustrator (died in 1983)
1914 – Sun Ra, American pianist, composer, bandleader, poet (died in 1993)
1922 – Quinn Martin, American screenwriter and producer (died in 1987)
1938 – Richard Benjamin, American character actor and director
1942 – Ted Kaczynski, American anarchist and serial murderer, the Unabomber
1966 – Johnny Gill, American singer-songwriter
1970 – Naomi Campbell, English model
1970 – Brody Stevens, American comedic actor (died in 2019)
1999 – Camren Bicondova, American actress
May 22 History
May 22 Birthday (fictional) Ash Ketchum, Pokemon
1455
England's War of the Roses began when the Yorkists defeated King Henry VI's Lancastrian forces at St. Albans.
1762
Trevi Fountain was officially completed and inaugurated in Rome.
1807
A grand jury indicted former Vice President of the United States, Aaron Burr, on a charge of treason.
1819
SS Savannah left port at Savannah, Georgia, United States, starting a voyage to become the first steamship to cross the Atlantic Ocean.
1848
Pico de Orizaba (Citlaltépetl) – 18,491 ft (5,636 m) – Mexico – First ascent: May 22, 1848, by William F. Raynolds and John Tully
1849
Abraham Lincoln was issued a patent (#6,469) for "buoying boats over shoals."
1906
Orville and Wilbur Wright were granted a patent (#821,393) for their flight control system.
1927
(Earthquake) Gulang/Gansu, China
1960
(Earthquake) Magnitude 9.5 in Chile killed 5,000 and left 2,000,000 homeless.
1961
#1 Hit May 22, 1961 – May 28, 1961: Ernie K-Doe – Mother-in-Law
1965
#1 Hit May 22, 1965 – May 28, 1965: The Beatles – Ticket to Ride
1976
#1 Hit May 22, 1976 – May 28, 1976: Wings – Silly Love Songs
1992
Johnny Carson hosted The Tonight Show for the last time
1993
NBC broadcasted the graduation episode (series finale) for Saved By The Bell.
1995
Blossom came to an end on NBC
2001
Sharpay's Fabulous Adventure aired on The Disney Channel
2004
#1 Hit May 22, 2004 – July 9, 2004: Usher – Burn
2010
#1 Hit May 22, 2010 – June 18, 2010: Eminem – Not Afraid
2011
(Tornado) Joplin, Missouri
2017
Twenty-two people were killed at an Ariana Grande concert in the 2017 Manchester Arena bombing.
2021
#1 Hit May 22, 2021 – May 28, 2021: Leave the Door Open – Silk Sonic (Bruno Mars and Anderson .Paak)
Today's Random Trivia and Shower Thoughts
A group of letters is a word, a group of numbers is a number. #words #numbers

Australia's Dingoes are actually ancient stray dogs.

The Krispy Kreme Klub would actually be a thing if it weren't for the criminal acts of the Klu Klux Klan.

If life is unfair for everyone, then life is fair.

"Waka Flocka Waka Flocka, Waka waka waka flocka." #songlyrics

Madonna did her own hair and make-up and supplied her own wardrobe in "Desperately Seeking Susan".

"When you're a Jet, you're a top cat in town. You're a gold medal kid with the heavyweight crown!" – The Jets #moviequotes

"If ever words were spoken, painful and untrue, I said I loved but I lied " #songlyrics

Useless Pronunciation: I as in iguana

"And I slept in last night clothes and tomorrow's dreams .. but they're not quite what they seem" #songlyrics

Drummer Stewart Copeland of the Police composed the soundtrack of "Spyro the Dragon" and the following three Spyro games.

"Find a voice in a whisper." – Martin Luther King Jr.
More Pop Culture History Resources