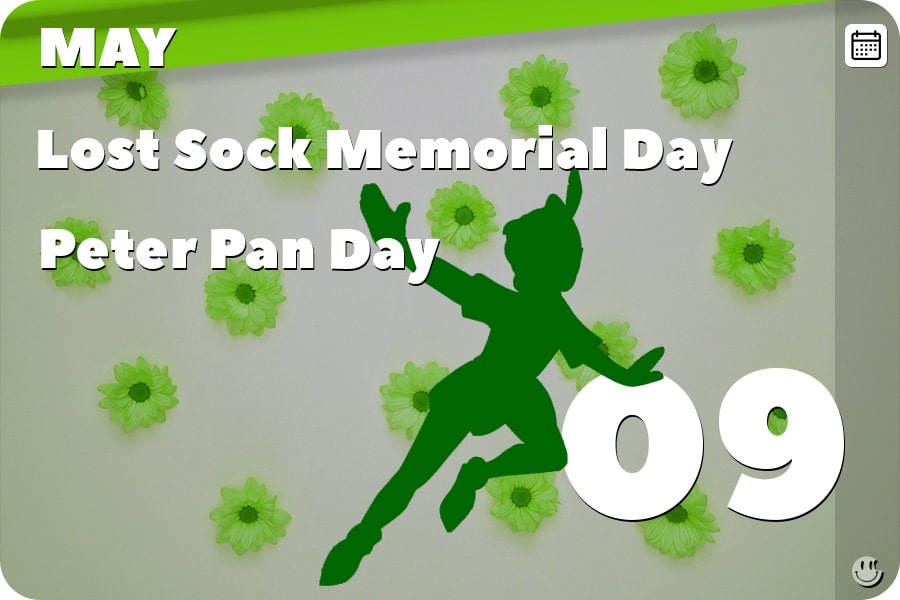 May 9 Facts, Fun Trivia and History
May 9 History Highlights
1662 – The precursor to Mr. Punch made his first recorded appearance in England.
1955 – West Germany joined NATO.
1961 – FCC Chairman Newton N. Minow gave his Television is a Vast Wasteland Speech.
1974 – The United States House Committee on the Judiciary opened impeachment hearings against President Richard Nixon.
If you were born on May 9th,
You were likely conceived the week of… August 16th (prior year)
Television and the Public Interest
"When television is good, nothing; not the theater, not the magazines or newspapers; nothing is better. But when television is bad, nothing is worse. I invite each of you to sit down in front of your own television set when your station goes on the air and stay there, for a day, without a book, without a magazine, without a newspaper, without a profit and loss sheet or a rating book to distract you. Keep your eyes glued to that set until the station signs off. I can assure you that what you will observe is a vast wasteland."

"You will see a procession of game shows, formula comedies about totally unbelievable families, blood and thunder, mayhem, violence, sadism, murder, western bad men, western good men, private eyes, gangsters, more violence, and cartoons. And endlessly, commercials many screaming, cajoling and offending. And most of all, boredom. True, you'll see a few things you will enjoy. But they will be very, very few. And if you think I exaggerate, I only ask you to try it."
– Newton N. Minow (full speech)
May 9 is…
Butterscotch Brownie Day
Children's Mental Health Awareness Day
Europe Day
Lost Sock Memorial Day
Peter Pan Day
May 9 Birthday Quotes
"The secret of happiness is not in doing what one likes, but in liking what one does."
– James M. Barrie
"Be mild with the mild, shrewd with the crafty, confiding to the honest, rough to the ruffian, and a thunderbolt to the liar. But in all this, never be unmindful of your own dignity."
– John Brown
"You'll come to see that a man learns nothing from winning. The act of losing, however, can elicit great wisdom. Not least of which is how much more enjoyable it is to win. Its inevitable to lose now and again. The trick is not to make a habit of it."
– Albert Finney
"I've done some low-budget movies and I've done some big-budget movies, and the big-budget movies were always kind of disorganized."
– John Corbett
"Dagwood Bumstead was a great unrecognized hero of American literature. He showed up every day, he got knocked down every day, he never got to eat his sandwich every day, the dog jumped on him every day, his wife was giving him a hard time and he showed up every day."
– James L. Brooks
May 9 Birthdays
1800 – John Brown, American activist (died in 1859)
1860 – J.M. Barrie, Scottish novelist and playwright (died in 1937)
1874 – Howard Carter, English archaeologist and historian (died in 1939)
1918 – Mike Wallace, American journalist and media personality (died in 2012)
1936 – Albert Finney, English actor (died in 2019)
1940 – James L. Brooks, American director, producer, and screenwriter
1946 – Candice Bergen, American actress
1949 – Billy Joel, American singer-songwriter and pianist
1961 – John Corbett, American actor
1979 – Rosario Dawson, American actress
May 9 History
1662
Famous puppet Mr. Punch made his first recorded appearance in England.
1671 
Thomas Blood, disguised as a clergyman, attempted to steal England's Crown Jewels.
1865
The patent (#47,631) was issued to Richard Jordan Gatling for the Gatling gun, which was the first to successfully combine reliability, high firing rate, and ease of loading into a single device.
1882
William F. Ford was issued a patent (#257,487) for his stethoscope.
1887
Buffalo Bill's Wild West Show opened in London, England.
1893
The first motion picture exhibition was presented by Thomas Edison in Brooklyn, New York to an audience of 400 people at the Dept of Physics, Brooklyn Institute, Brooklyn, NY, using his Kinetograph.
1914
Although referred to since the late 1800s, US President Woodrow Wilson proclaimed the first Mother's Day holiday on this date.
1926
Richard Byrd and Floyd Bennett made the first flight over the North Pole.
1950
L. Ron Hubbard (Lafayette Ronald Hubbard) published Dianetics: The Modern Science of Mental Health.
1955
Harpo Marx appeared in a very special I Love Lucy Episode.
1955
West Germany joined NATO (North Atlantic Treaty Organization).
1956
Manaslu – 26,781 ft (8,163 m) – Nepal – First ascent: May 9, 1956, by Toshio Imanishi and Gyalzen Norbu
1958
Alfred Hitchcock's Vertigo has its world premiere in San Francisco.
1960
The Food and Drug Administration (FDA) approved the world's first commercially produced birth-control bill-Enovid-10.
1961
Newton Minow, Chairman of the Federal Communications Commission, referred to television as the "vast wasteland"
1970
#1 Hit May 9, 1970 – May 29, 1970: The Guess Who – American Woman / No Sugar Tonight
1978
Broadway Show – Ain't Misbehavin' (Review) May 9, 1978
1981
May 9, 1981 (originally)/20** (now) Birthday (fictional) Lisa Simpson, The Simpsons, TV
1992
The Golden Girls aired their series finale.
2001
In Ghana, 129 football fans died in the Accra Sports Stadium Stampede Disaster.
2015
Russia staged a large military parade in Moscow's Red Square to commemorate the 70th anniversary of Victory Day.
2020
#1 Hit May 9, 2020 – May 15, 2020: The Scotts– The Scotts, Travis Scott, and Kid Cudi
Today's Random Trivia and Shower Thoughts
TV Quotes… "Just one more thing …" (Columbo) on Columbo.

I know what rotten eggs smell like, but I've never actually smelled rotten eggs.

A Roman walks into a bar and asks for a Martinus. "You mean a martini?" the bartender asks. The Roman replied, "If I wanted a double, I would have asked for it!"

When I buy a pizza, it comes in a sturdy corrugated box. When I buy a cake, it comes in a flimsy box that tries to kill the cake.

The number 14233221 describes itself; it has one four, two threes, three twos, and two ones.

"What you see is what you get!" – Geraldine (The Flip Wilson Show) #TVQuotes

A group of Raccoons is called a Gaze.

What if the wires going to the two earbuds were different colors so it was easier to untangle?

When Bobby pins are used in a formal setting, they should be called Robert pins. #etiquette

About 25% of the film 'Jaws' was shot from water level so audiences could better relate to treading water.

"She had the face of an angel, smiling with sin, the body of Venus, with arms." #songlyrics

"I'm Larry, this is my brother Darryl, and my other brother Darryl" – Larry (Newhart) #TVQuotes
More Pop Culture History Resources