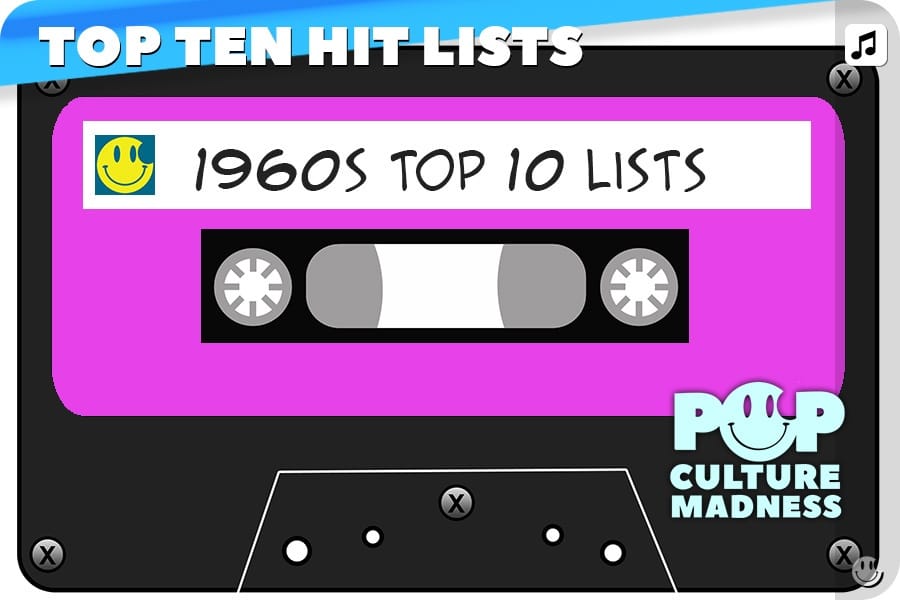 About Music of the Sixties: Things You Need To Know In 1960, New Orleans was the place to be apparently. Hits included Johnny Horton's The Battle of New Orleans, Freddy Cannon's Way Down Yonder In New Orleans, Gary US Bond's New Orleans and Walking To New Orleans by Fats Domino scored in Billboard's charts.
Chubby Checker's The Twist hit number one on Billboard's charts in 1960 and influenced quite a few "Twist" songs over the next few years, including Let's Twist Again, Peppermint Twist, Twist and Shout, Twistin The Night Away, Slow Twistin', Twistin' Postman and Twistin' Matilda, to name a few.
The epic Teenage Death song theme went into full gear in 1961 with Teen Angel by Mark Dinning.
1962's Hey! Baby by Bruce Channel was made popular again in 1987's hit film Dirty Dancing and was popular again thanks to DJ Otzi's 2001 remix, a 39-year span. Tiny Tim's Tiptoe Thru The Tulips 'hit' in 1968 was written in 1929, another 39-year stretch.
The Beatles had 12 songs in the Top 100 for the week April 4, 1964.
Rolling Stone named 1965's Blowin In The Wind by Bob Dylan and I Can't Get No Satisfaction by the Rolling Stones as the two Greatest Rock and Roll Songs of all Time in 2004 respectively. Most music fans, while admitting the Blowin In The Wind was significant, wouldn't say the song 'rocks'.
… Just sayin'.
A Few Bubblegum Pop Hits Of The 1960s
1. Sugar Sugar – The Archies
2. Daydream Believer – The Monkees
3. She Loves You – The Beatles
4. Simon Says – 1910 Fruitgum Company
5. The Tra La La Song (One Banana Two Banana) – The Banana Splits
6. Hey! Baby – Bruce Channel
7. Yummy Yummy Yummy – Ohio Express
8. Running Bear – Johnny Preston
9. Green Tamborine – The Lemon Pipers
10. I'm Henry VIII, I Am – Herman's Hermits
The Sixties' Songs That Mom And Dad Hated
1. Let's Spend The Night Together – Rolling Stones
2. Rainy Day Woman # 12 & 35 – Bob Dylan
3. In-A-Gadda-Da-Vida – Iron Buttefly
4. Louie Louie – Kingsmen
5. I Fought The Law – Bobby Fuller Four
6. They're Coming To Take Me Away, Ha-Haaa! – Napoleon XIV
7. I Think We're Alone Now – Tommy James & the Shondells
8. Light My Fire – the Doors
9. Psychotic Reaction – Count Five
10. Who's Makin' Love – Johnny Taylor
The 60s Songs That Everybody Hated
1. I Dig Rock and Roll Music – Peter, Paul and Mary
2. Ringo – Lorne Greene
3. Palisades Park – Freddy "Boom Boom" Cannon
4. 98.6 – Keith
5. Winchester Cathedral – New Vaudeville Band
6. Itsy Bitsy Teenie Weenie Yellow Polkadot Bikini – Bryan Hyland
7. Somethin' Stupid – Frank and Nancy Sinatra
8. Do The Freddie – Freddie and the Dreamers
9. The Tra La La Song – The Banana Splits
10. In The Year 2525 – (Exordium and Terminus) – Zager and Evans
Selected Summer Songs 1960-1969
1. Miserlou – Dick Dale and the Del-Tones, 1963
2. Summer in the City – Lovin' Spoonful, 1966
3. Good Vibrations – The Beach Boys, 1966
4. Dancing In The Street- Martha & The Vandellas, 1964
5. Under The Boardwalk – The Drifters, 1964
6. (Love Is Like A) Heat Wave – Martha & The Vandellas, 1963
7. Wipeout – The Surfaris, 1963
8. Summertime, Summertime – The Jamies, 1962 (& 1958)
9. Those Lazy Hazy Crazy Days Of Summer – Nat King Cole, 1963
10. Summer Wind – Frank Sinatra, 1966
11. Hot Fun In The Summertime – Sly and the Family Stone, 1969
12. Surfin USA – Beach Boys, 1963
13. California Girls – Beach Boys, 1965
14. California Sun – Rivieras, 1964
15. Surf City – Jan & Dean, 1963
16. Girl from Ipanema – Stan Getz and Astrud Gilberto, 1964
17. Girl Watcher – O'Kaysions, 1968
18. Wildwood Days – Bobby Rydell, 1963
19. Respect – Aretha Franklin, 1967
20. Summertime – Billy Stewart, 1966
Some Of The Early Sixties' Biggest Dance Music Hits
1. The Twist – Chubby Checker
2. I Can't Help Myself (Sugar Pie Honey Bunch) – Four Tops
3. Runaround Sue – Dion
4. Hang On Sloopy – The McCoys
5. Heatwave – Martha and the Vandellas
6. Pretty Little Angel Eyes – Curtis Lee
7. Ain't Too Proud To Beg – Temptations
8. Twist and Shout – Beatles
9. The Loco-Motion – Little Eva
10. Mickey's Monkey – The Miracles
Some Of The Late Sixties' Biggest Dance Music Hits
1. Build Me Up Buttercup – Foundations
2. More Today Than Yesterday – Spiral Staircase
3. Mony Mony – Tommy James and the Shondells
4. Brown Eyed Girl – Van Morrison
5. Sweet Soul Music – Arthur Conley
6. Mustang Sally – Wilson Pickett
7. Jimmy Mack – Martha and the Vandellas
8. This Old Heart Of Mine – Isley Brothers
9. I Heard It Through The Grapevine – Marvin Gaye
10. Good Vibrations – The Beach Boys
Some Of The 60'S Best Party Rock Songs
1. Twist and Shout – Isley Brothers (or Beatles)
2. Devil With a Blue Dress/Good Golly Miss Molly – Mitch Ryder & Detroit Wheels
3. Born To Be Wild – Steppenwolf
4. In The Midnight Hour – Wilson Pickett
5. I'm A Believer – The Monkees
6. Gimme Some Lovin' – The Spencer Davis Group
7. Hang on Sloopy – McCoys
8. Mustang Sally – Wilson Pickett
9. Johnny B. Goode – Chuck Berry
10. Time Won't Let Me – Outsiders
Some Early 60s Most Known Doo Wop Songs
1. Blue Moon – Marcels
2. Up On The Roof – The Drifters
3. You Belong To Me – The Capris
4. Denise – Randy and the Rainbows
5. There's a Moon Out Tonight – The Capris
6. Big Girls Don't Cry – Four Seasons
7. Papa Oom-Mow-Mow – Rivingtons
8. Stay – Maurice Williams and the Zodiacs
9. Daddy's Home – Shep and the Limelights
10. Tonight's The Night – Shirelles
The Sixties' Best Sing-A-Long Pop Songs
1. The Lion Sleeps Tonight – The Tokens
2. Sweet Caroline – Neil Diamond
3. I Got You Babe – Sonny and Cher
4. Ain't No Mountain High Enough – Marvin Gaye & Tammi Terrell
5. Son Of A Preacher Man – Dusty Springfield
6. Hey Jude – The Beatles
7. Under The Boardwalk – The Drifters
8. Volare – Bobby Rydell
9. Happy Together – The Turtles
10. Tiny Bubbles – Don Ho
The Sixties' Most Trendy Hits
(What The Cool Kids Were Listening To)
1. Blowin In The Wind – Bob Dylan
2. In The Year 2525 – (Exordium and Terminus) – Zager and Evans
3. The Boxer – Simon and Garfunkle
4. Sunshine Superman – Donovan
5. White Room – Cream
6. Suite: Judy Blue Eyes – Crosby Stills and Nash
7. See Emily Play – The Pink Floyd
8. White Rabbit – Jefferson Airplane
9. Dark Star – Grateful Dead
10. Crosstown Traffic – Jimi Hendrix
11. Paper Sun – Traffic
The Top 20 60s Songs That You Need
To Make Your Collection Complete
1. Sweet Caroline – Neil Diamond
2. You've Lost That Lovin' Feeling – Righteous Brothers
3. Red Rubber Ball – Cyrcle
4. Ain't No Mountain High Enough – Marvin Gaye & Tammi Terrell
5. It's The Same Old Song – Four Tops
6. Happy Together – The Turtles
7. Son Of A Preacher Man – Dusty Springfield
8. She Loves You – Beatles
9. Green Onions – Booker T. & The MG's
10. Sunshine Superman – Donovan
11. Runaround Sue – Dion and the Belmonts
12. Where Did Our Love Go – Supremes
13. California Sun – Rivieras
14. A Whiter Shade of Pale – Procul Harum
15. Like a Rolling Stone – Bob Dylan
16. I Got You Babe – Sonny and Cher
17. Gimme Gimme Good Lovin – Crazy Elephant
18. I Can't Seem To Make You Mine – The Seeds
19. Up On The Roof – The Drifters
20. The Boxer – Simon and Garfunkle
The Sixties' Biggest One Hit Wonders
1. Wipe Out – The Surfaris
2. In-A-Gadda-Da-Vida – Iron Butterfly
3. Do You Love Me – The Contours
4. Venus – Shocking Blue
5. The Girl From Ipanema – Stan Getz & Astrud Gilberto
6. Gimme Gimme Good Lovin' – Crazy Elephant
7. Wooly Bully – Sam the Sham & the Pharaohs
8. Hot Rod Lincoln – Johnny Bond
9. Nobody But Me – The Human Beinz
10. Money (That's What I Want) – Barrett Strong
The 60s Biggest Fad Songs & Some Short-Lived Hits
1. The Twist – Chubby Checker
2. Name Game – Shirley Ellis
3. Sugar Sugar – The Archies
4. Born Free – Roger Williams
5. Magic Carpet Ride – Steppenwolf
6. Simon Says – 1910 Fruitgum Company
7. To Sir With Love – Lulu
8. Wildwood Days – Bobby Rydell
9. Yummy, Yummy, Yummy – Ohio Express
10. South Street – Orlons
The Sixties' Best Known Teenage Death Songs
1. Last Kiss – J. Frank Wilson
2. Dead Man's Curve – Jan & Dean
3. The Water Was Red – Johnny Cymbal
4. Teen Angel – Mark Dinning
5. No Surfing Today – the Four Seasons
6. The Leader of the Pack – Shangra-Las
7. Paint It Black – Rolling Stones
8. Moody River – Pat Boone
9. Tell Laura I Love Her – Ray Peterson
10. Ode To Billy Joe – Bobbie Gentry
The Sixties' Weirdest And Un-P.C. Pop Songs
1. Maxwell's Silver Hammer – The Beatles
2. In-A-Gadda-Da-Vida – Iron Butterfly
3. A Boy Named Sue – Johnny Cash
4. Star Spangled Banner – Jimi Hendrix
5. If You Wanna Be Happy – Jimmy Soul
6. Surfin' Bird – The Trashmen
7. Fire – The Crazy World of Arthur Brown
8. Tip-Toe Through the Tulips With Me – Tiny Tim
9. I Want My Baby Back – Jimmy Cross
10. My Pal Foot Foot – The Shaggs
The Sixties' Most "Preachy" Songs
1. Give Peace A Chance – John Lennon
2. Abraham, Martin and John – Dion
3. Harper Vally P.T.A. – Jeannie C. Riley
4. The "In" Crowd – Dobie Gray
5. Eve of Destruction – Barry McGuire
6. Stand By Your Man – Tammy Wynette
7. Teach Your Children – Crosby, Stills, Nash and Young
8. People Got To Be Free – The Rascals
9. Where Have All The Flowers Gone? – Kingston Trio
10. What The World Needs Now Is Love – Jackie DeShannon
The 60s Most "Influenced" Pop Songs
1. White Rabbit – Jefferson Airplane
2. MacArthur Park – Richard Harris
3. Lucy In The Sky With Diamonds – Beatles
4. Red Red Wine – Neil Diamond
5. Purple Haze – Jimi Hendrix Experience
6. The Star Spangled Banner – Jimi Hendrix
7. I Had Too Much To Dream (Last Night) – The Electric Prunes
8. Tiny Bubbles – Don Ho
9. Incense and Peppermints – Strawberry Alarm Clock
10. You Keep Me Hangin' On – Vanilla Fudge
The 60s Best Known Garage Band Rock Hits
1. Louie Louie – The Kingsmen
2. 96 Tears – ? and the Mysterians
3. Friday On My Mind – The Easybeats
4. I Fought The Law – Bobby Fuller Four
5. Nobody But Me – The Human Beinz
6. Gimme Gimme Good Lovin – Crazy Elephant
7. Pushin Too Hard – The Seeds
8. Psychotic Reaction – Count Five
9. Keep On Dancin' – The Gentrys
10. My Little Red Book – Love
11. Dougle Shot (Of My Baby's Love) – The Swinging Medallions
12. She's About A Mover – Sir Douglas Quintet
13. Lies – The Knickerbockers
14. A Question of Temperature – Balloon Farm
15. Liar, Liar – The Castaways
16. Talk Talk – The Music Machine
17. Bottle Of Wine – The Fireballs
18. Kick Out The Jams – MC5
19. Hippy Hippy Shake – Swinging Blue Jeans
20. Bongo Stomp – Little Joey & the Flips
The 60s Songs That We Secretly Liked
(But Didn't Tell Our Friends)
1. Papa Oom Mow Mow – Rivingtons
2. Danke Schoen – Wayne Newton
3. I'm Into Something Good – Herman's Hermits
4. The Shoop Shoop Song (It's In His Kiss) – Betty Everett
5. 59th Street Bridge Song (Feeling Groovy) – Simon and Garfunkle
6. Surfer Joe – The Surfaris
7. Lemon Tree – Trini Lopez
8. Sugar Town – Nancy Sinatra
9. King of the Road – Roger Miller
10. Ferry Cross The Mersey – Gerry and the Pacemakers