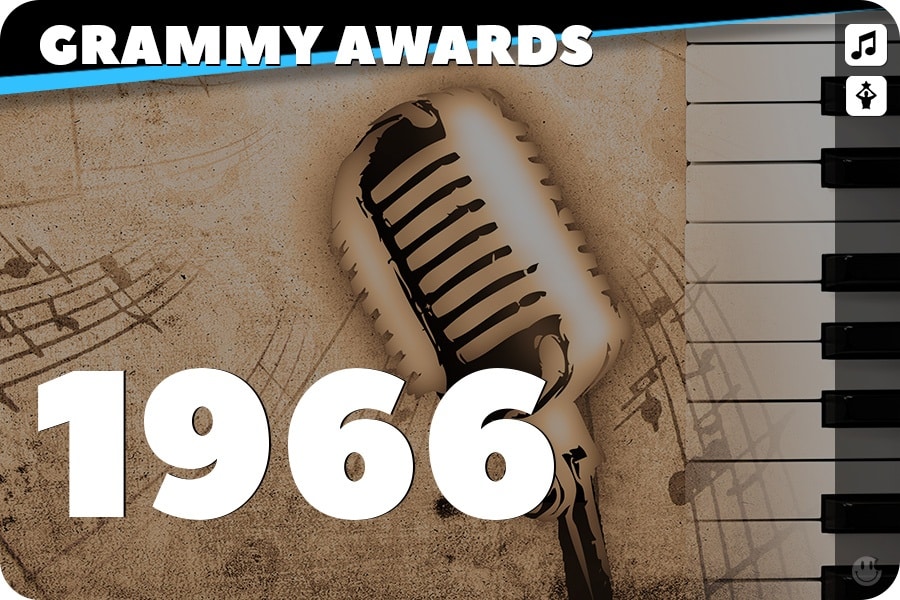 1966 Grammy Award Winners
Winners Announced: March 15, 1966
Televised "Best on Record": May 16, 1966
Held at: Chicago, Los Angeles, Nashville, and New York
Eligibility Year: December 1, 1964 – November 1, 1965
Grammy Highlights and Achievements
Roger Miller Dominates: The country artist was the night's big winner, taking home six awards including Best Country & Western Album for The Return of Roger Miller.
Frank Sinatra's September of My Years: Sinatra won Album of the Year, while his classic "It Was a Very Good Year" won Best Male Vocal Performance.
The Sound of Music Reigns: The film's soundtrack, featuring Julie Andrews, won for Best Original Score Written for a Motion Picture.
Herb Alpert's A Taste of Honey: Herb Alpert & the Tijuana Brass swept several awards, signaling the mainstream acceptance of Latin-influenced sounds.
Trivia
First Nashville Ceremony: This was the first year the Grammys were held in Nashville, expanding its geographical reach.
Tom Jones Breakthrough: The Welsh singer won Best New Artist, riding the wave of his hit "What's New Pussycat?"
Record of the Year Surprise: Herb Alpert's instrumental "A Taste of Honey" won Record of the Year, a rare win for a non-vocal track.
Grammy's Jazz Nod: The Ramsey Lewis Trio's jazz version of "The In Crowd" won Best Jazz Performance by a Group.
1966 Grammy Winners
Record of the Year:
A Taste of Honey – Herb Alpert and the Tijuana Brass
Album of the Year:
September of My Years – Frank Sinatra (Reprise)
Song of the Year:
The Shadow of Your Smile (Love Theme From The Sandpiper) – Paul Francis Webster and Johnny Mandel, songwriters
Best New Artist:
Tom Jones
Most Promising New Recording Artist:
Peter Serkin – pianist
Best Vocal Performance, Male:
It Was a Very Good Year – Frank Sinatra
Best Vocal Performance, Female:
My Name Is Barbra – Barbra Streisand
Best Performance By a Vocal Group:
We Dig Mancini – Anita Kerr Singers
Best Contemporary (Rock and Roll) Single:
King of the Road – Roger Miller
Best Contemporary (Rock and Roll) Vocal Performance, Male:
King of the Road – Roger Miller
Best Contemporary (Rock and Roll) Vocal Performance, Female:
I Know a Place – Petula Clark
Best Contemporary (Rock and Roll) Performance Group (Vocal or Instrumental):
Flowers on the Wall – Statler Brothers
Best Rhythm and Blues Recording:
Papa's Got a Brand New Bag – James Brown (King)
Best Instrumental Jazz Performance, Small Group or Soloist With Small Group:
The In Crowd – Ramsey Lewis Trio
Best Instrumental Jazz Performance, Large Group or Soloist With Large Group:
Ellington '66 – Duke Ellington Orchestra
Best Original Jazz Composition:
Jazz Suite on the Mass Texts – Lalo Shifrin, Composer
Best Country and Western Single
King of the Road – Roger Miller
Best Performance By a Chorus:
Anyone for Mozart? – Swingle Singers
Best Country and Western Album:
The Return of Roger Miller – Roger Miller (Smash)
Best Country and Western Song:
King of the Road – Roger Miller, songwriter
Best Country and Western Vocal Performance, Male:
King of the Road – Roger Miller
Best Country and Western Vocal Performance, Female:
Queen of the House – Jody Miller
Best New Country and Western Artist:
Statler Brothers
Best Gospel or Other Religious Recording (Musical):
Southland Favorites – George Beverly Shea and the Anita Kerr Quartet (RCA)
Best Folk Recording:
An Evening With Belafonte/Makeba – Harry Belafonte and Miriam Makeba (RCA)
Best Instrumental Arrangement:
A Taste of Honey – Herb Alpert, arranger
Best Arrangement Accompanying a Vocalist or Instrumentalist:
It Was a Very Good Year – Gordon Jenkins, arranger
Best Instrumental Performance, Non-Jazz:
A Taste of Honey – Herb Alpert and the Tijuana Brass
Best Score From an Original Show Album:
On a Clear Day – Alan Lerner and Burton Lane (RCA)
Best Original Score Written for a Motion Picture or Television Show:
The Sandpiper – Johnny Mandel, composer (Mercury)
Album of the Year, Classical:
Horowitz at Carnegie Hall, An Historic Return – Vladimir Horowitz (Columbia)
Best Classical Performance, Orchestra:
Ives, Symphony No. 4 – Leopold Stokowski conducting American Symphony Orchestra
Best Classical Chamber Music Performance, Instrumental or Vocal:
Bartók, The Six String Quartets – Juilliard String Quartet
Best Classical Performance, Instrumental Soloist(s) (With Orchestra):
Beethoven, Concerto No. 4 in G Major for Piano and Orchestra – Artur Rubinstein; Erich Leinsdorf conducting Boston Symphony
Best Classical Performance, Instrumental Soloist (Without Orchestra):
Horowitz at Carnegie Hall, An Historic Return – Vladimir Horowitz
Best Opera Recording:
Berg, Wozzeck – Karl Bohm conducting Orchestra of German Opera, Berlin; solos: Fisher-Dieskau, Lear and Wunderlich (Deutsche Grammophon)
Best Classical Choral Performance (Other Than Opera):
Stravinsky, Symphony of Psalms; Poulenc, Gloria – Robert Shaw conducting Robert Shaw Chorale and RCA Victor Symphony Orchestra
Best Classical Vocal Performance, With or Without Orchestra:
Strauss, Salome (Dance of the Seven Veils – Interlude, Final Scene); The Egyptian Helen (Awakening Scene) – Leontyne Price
Best Composition By a Contemporary Classical Composer:
Symphony No. 4 – Charles Ives, Composer
Best Comedy Performance:
Why Is There Air? – Bill Cosby
Best Spoken Word or Drama Recording:
John F. Kennedy: As We Remember Him (Columbia)
Best Recording for Children:
Dr. Seuss Presents Fox in Sox and Green Eggs and Ham – Marvin Miller (RCA)
Best Album Cover, Graphic Arts:
Bartók, Concerto No. 2 for Violin; Stravinsky, Concerto for Violin – James Alexander, graphic artist; George Estes, art director (RCA)
Best Album Cover, Photography
Jazz Suite on the Mass Texts – Ken Whitmore, photographer; Bob Jones, art director (RCA)
Best Album Notes:
September of My Years – Stan Cornyn, annotator (Reprise)