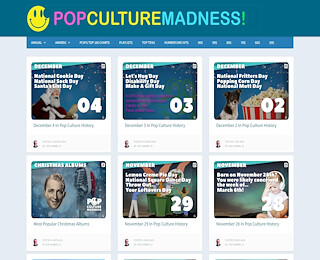 PopCultureMadness.com is your online hub for the great songs and music in pop culture history. If you have an affinity for
1997 songs
by various artists or you love to recapture that fateful year of your life through the songs and music of 1997, let PopCultureMadness take you back to the time. Simply scroll the annual pop music charts and select from any one of the following:
- 1997 Charts
- 1997 Top 100
- Dance Song 1990 - 2000
- Number 1's - 90s
- Or one of the themes, such as Sexy Songs, Classic Rock, Summer Songs, Thursday Songs, or select from a wide range of themes that will bring you back to that enjoyable year of 1997
The 1997 Music Charts report that the three biggest Artists, Albums and Songs from 1997 are:
- LeAnn Rimes, Best New Artist Grammy Winner, presented in 1997
- Celine Dion, Grammy for Album of the Year
- Change the World - Eric Clapton Grammy for Record of the Year
New artists in the pop charts for 1997 included: The Spice Girls, Will Smith, Third Eye Blind, Savage Garden, Matchbox 20, Ray J, The Mighty Mighty Bosstones, Chumbawamba, Sister Hazel, Aqua, Erykay, Badu, Amber, Wyclef Jean, DJ Kool, Foxy Brown, Jagged Edge, Missy Elliot, Lorrie Morgan, Barenaked Ladies, Our Lady Peace and Trace Adkins.
1997 Retro Top 10 Songs:
- You Were Meant For Me - Jewel
- ooh aah…Just a Little Bit - Gina G
- How Do I Live - LeAnn Rimes
- The Impression That I Get - Mighty Mighty Boston's
- Let Me Clear My Throat - DJ Kool
- How Bizarre - OMC
- Tubthumping - Chumbawamba
- MM Bop - Hanson
- Da' Dip - Freaky Nasty
- Sunny Came Home - Shawn Colvin
To purchase any of the top hits, albums or 1997 top songs, simply click on the music note next to the title and you'll be taken to a third party website where you can add your favorite 1997 songs to your personal collection.Remember those 'one-hit-wonders' from 1997? The top 10 list is as follows"
- Butterfly Kisses by Bob Carlysle
- How Bizarre by OMC
- Coco Jamboo by Mr. President
- Song 2 by Blur
- I Like It by the Blackout AllStars
- Barely Breathing by Duncan Sheik
- Bitch by Meredith Brooks
- Lovefool by The Cardigans
- Dream by Forest for the Trees
- Naked Eye by Lucious Jackson
If you're like a lot of other fans of music from the late 1990s, you probably like to dance to some of the most popular songs. You can see a complete list of the most requested pop and dance hits from the 1990s and purchase your favorites from PopcultureMadness.com. Narrow down your search by choosing from Hip HopRap Pop Hits of the 1990s, Most Requested Pop Dance Hits of the 1990s, Boy Band Hits of the 1990s, Girl Group Hits and Chick Rock of the 1990s, Nineties Reggaeton Dance Hits, and much more.
Find the 1997 songs you most love from the only online network that has everything their customers are looking for, located in one convenient place. Shop PopCultureMadness.com for the best prices on the music you love.