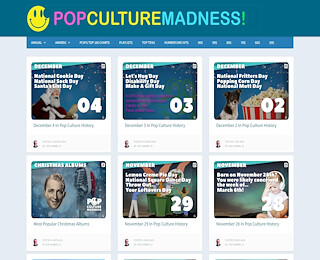 Visit PopCultureMadness.com and see a list of your favorite
1987 songs
from the popular decade of dance and party music. You'll find all of your old favorites listed in comprehensive charts that make it easy to find your favorites and purchase them for your personal collection.
PopCultureMadness is one of the best online hubs to search for news in the Pop Culture- all the latest news stories are referenced on their site. Simply click on the news story that interests you and read the full content story. PopCultureMadness is always adding to their content to make their site more enjoyable and valuable as an online resource for pop culture history. Their visitors love not having to worry about pop-up ads or spyware while searching through the music records and pop culture news stories on the website.
The 1987 top 10 Pop Music Songs include:
- Living on a Prayer by bon Jovi
- Mony Mony by Billy Idol
- I've had the Time of My Life by Bill Medley and Jennifer Wames
- Lean on Me by Club Nouveau
- Songbird by Kenny G
- Always by Atlantic Starr
- Oh Yeah by Yello
- La Bamba by Los Lobos
- You Can Call Me Al by Paul Simon
- With or Without You by U2
You'll find the complete list of the top 100 songs in 1987 at PopCultureMadness.com. If you're like a lot of other fans of the 1980s music, you probably love some of the old 80s dance hits, which can really bring back a lot of memories. According to the charts, the 10 biggest Pop Dance Music Hits of the 80s are:
- Funkytown by Lipps Inc
- Electric Boogie by Marcia Griffiths
- Let's Groove by Earth, Wind and Fire
- Push It by Salt N Pepa
- Superfreak by Rick James
- Celebration by Kool and the Gang
- It's Raining Men by the Weather Girls
- Footloose by Kenny Loggins
- Girls Just Wanna Have Fun by Cyndi Lauper
- Love Shack by B-52s
Do you love that great old Eighties Bubblegum Pop Music? Who doesn't? These oldies from the 80s will bring back some great memories:
- I Love Rock and Roll by Joan Jett and the Blackhearts
- Mickey by Toni Basil
- Wake Me Up Before You Go-Go by Wham!
- We Got the Beat by The Go-Gos
- Don't Worry Be Happy by Bobby McFerrin
- Only in My Dreams by Debbie Gibson
- Girls Just Wanna Have Fun by Cyndi Lauper
- I Think We're Alone Now by Tiffany
- We Built This City by Starship
- Foolish Beat by Debbie Gibson.
It doesn't stop there. You'll find all the best 1987 songs at PopCultureMadness.com, including the 1980s Biggest Movie Soundtrack Hits, Summer Songs of the80s, The 80s Songs Your Mom and Dad Hated (#1, Me So Horny by 2 live Crew), The 80s Songs Everybody Hated (Sussudio by Phil Collins), and much more.
Select all of your favorite 1987 songs and enjoy them again like you did back then. Check out the Eighties Songs You Need to Make Your Collection Complete and you'll certainly find at least one or two of your old favorites hiding within the charts.