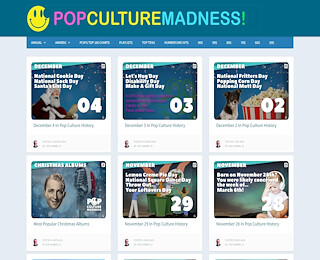 The great songs of the sixties are an amazing mixture of several cultures of music coming together at what was an incredible time in history. The 60s marked the official end of the big band age and the beginning of what would eventually be thought of as rock and roll. While many argue that those early beginnings actually started in the 50s, the 1960s will always be considered the decade of classic rock.
If you love the songs of the sixties, you may have a unique or special attachment to 1967. If that's the case, you are certainly not alone! PopCultureMadness makes it easy to find all of your favorite
1967 songs
in one convenient place. Their website is a wealth of resource for music lovers and is the go-to site for those looking to add to their personal music collections.
According to the 1967 music charts, the biggest artists, albums and songs from that year included Frank Sinatra's Grammy for the Album of the Year - Strangers in the Night. This song reached #1 on the Billboard Charts and was the only Frank Sinatra album to sell over a million copies. New artists in the pop charts for 1967 included: Jefferson Airplane, The Bee Gees, Linda Ronstadt, Al Green, Classics IV, The Doors, Country Joe and the Fish, Staple Singers, Jimi Hendrix, The Youngbloods, Janis Ian, The 5th Dimension, Bar-Kays, Van Morrison and Englebert Humperdink.
According to the charts, 1967's Top 10 Retro Songs included:
- Friday on My Mind by Easybeats
- The Look of Love by Dusty Springfield
- Silence is Golden by the Tremeloes
- I Got Rhythm by The Happenings
- To Love Somebody by The Bee Gees
- To Sir With Love by Lulu
- Sunday Will Never Be the Same by Spanky and Our Gang
- Hello Goodbye by The Beatles
- Incense and Peppermints by Strawberry Alarm Clock
- The 59th Street Bridge Song (Feeling Groovy) by Harper's Bizarre
You probably remember a lot of the old 'one-hit wonders' from 1967. Many of them became our favorites, just because they were played to often and we heard them enough to learn every one of their lyrics by heart. 1967's One Hit Wonder Songs included:
- If I Were a Rich Man by Herschel Bernardi
- Then You Can Tell Me goodbye by The Casinos
- For What It's Worth by Buffalo Springfield
- Tiny Bubbles by Don Ho
- San Francisco by Scott Mckenzie
- Yellow Balloon by The Yellow Balloon
- Music To Watch Girls By by Bob Crewe
- You Keep Me Hangin' On by Vanilla Fudge
- Next Plant to London by Rose Garden
- It Must Be Him by Vicki Carr
Add all of your favorite 1967 songs to your collection by visiting PopCultureMadness and narrow your results down by searching through 1967's Motown and Soul Top 10 List, 1967's Top 10 Dance Hits (#1, Brown-Eyed Girl by Van Morrison), 1967's Top 10 Rock and Roll Hits, 1967's Bubblegum Music Top 10 Hits (#1 Daydream Believer by The Monkees), and, of course, PCM's own 1967 Top 10 Hit List.